 and where is moyo island?
That's the second question people ask after I tell them I am going to Amanwana on Moyo Island. The fact that even the avid gallivanters among them are unaware of its existence only means one thing: Moyo Island is one of those rare, unspoilt corners of planet Earth. Jewel In The Archipelago
As the nine-passenger seaplane from Bali begins its descent, what I see below is stunning. An island covered in lush vegetation, rimmed alternately with white sand beaches and weather-sculpted cliffs, all surrounded by a sea shimmering in variegated tones of turquoise and emerald. As cliché as it sounds, the word 'paradise' escaped from my lips.
This piece of paradise lies to the east of Bali, towards Indonesia's Nusa Tenggara archipelago. Although dramatically dwarfed by Sumbawa, its 36,000 hectares still make it a sizeable home to eight villages with a combined population of 3,500. What is more important to note is that it is a nature reserve. Wildlife including indigenous buffalo, deer, monkeys and boars roam free, and birds like the white-breasted sea eagle, Brahminy kite, osprey, yellow oriole and megapode can be spotted. Furthermore, it is surrounded by a marine national park, with protected reefs that are home to a rich biodiversity of marine life. It's a great place to go if you want to immerse yourself in the natural world. The Origins Of Glamping
Moyo's nature reserve status also means that no permanently built-up structures are permitted throughout the island. This has, however, not stopped Aman from setting up camp here. Literally. And you can trust the luxury hospitality brand to take camping up to the highest notch. Its guests have been "glamping" before it was even a thing, and it says a lot that many of them come back time and time again.
Amanwana has 20 tents perched between the forest and the beach. As required by regulations, they are low-impact and eco-friendly, but nonetheless equipped with hardwood floors, high canopies sheltering sumptuous daybeds, ensuite bathrooms, net-draped king-sized beds and windows tidily dressed in Roman blinds. Air-conditioning makes them a bliss to return to, whether after a jungle trek or snorkelling adventure. Natural Playground
After a late but delicious lunch on the lawn under the cool shade of the trees, our posse makes for the activity hut to grab some snorkels and fins. We couldn't wait to see what is out there.
The sea is very calm, its surface almost smooth like a mirror. The scene beneath is similarly languid. Reef fish in every colour and shape flit about contentedly, if cautiously, when we pass. Following our guide further out, we glide past a lazy starfish. It's as big as a coffee table, and in the delicate shade of blue hydrangeas. At this point, our guide decides it is time for some excitement. With a decoy octopus made out of an old T-shirt, he begins baiting the scene. Soon enough, a few amorous octopi in the area approach. We watch amused as they compete for mating rights.
A little way off, I spot a massive moray eel watching the scene with interest. Octopi are one of its favourite food. But peering through the reefs, it merely opens and shuts its powerful jaws like a grumpy old woman chewing on betel nut. It probably just ate lunch.
Before long, a black-tipped reef shark comes along to check out what is going on. Probably because, like the moray eel, it quite enjoys a meal of cephalopods. It's young, about a metre in length. Although we know it poses no danger to us, we got a little nervous and decide to head back to shore.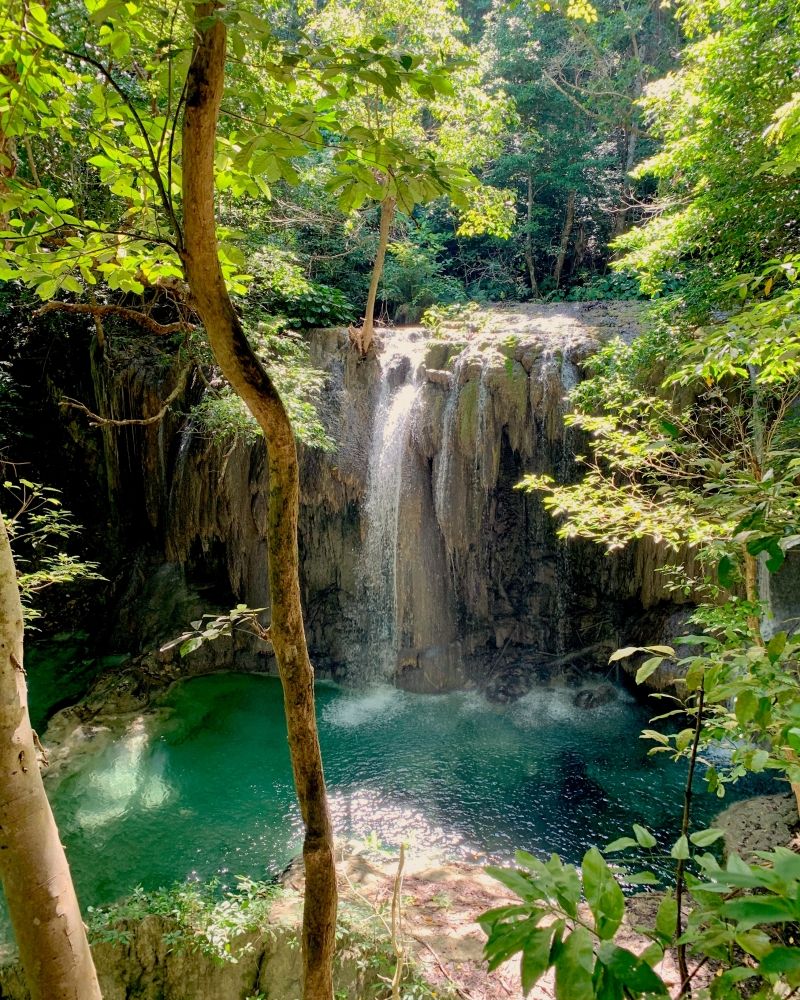 Curated Experiences
While snorkelling is probably the most natural thing to do when you have a marine park in proximity, the Amanwana team has lots more up its sleeves. Apart from spa treats and fabulous meals in stunning settings, it also organises some very special experiences for its guests. This morning, it's taking us on a trip up to Mata Jitu. Arriving at the waterfall after a bumpy jeep ride and short hike feels so refreshing, and that's before we even get into the water. After a calming session of yoga meditation, we venture upstream. Our jaws drop when we come upon a series of ponds amid mini falls. One by one, we follow our yogi and dive in, even those who didn't plan on swimming.
What's interesting is that the rock surfaces don't feel slippery the way those in waterfall pools usually do. Looking closer, we discover that they are comprised of fossilised coral. This means the whole island had, in fact, been submerged in the ocean millions of years ago. It was part of the ocean floor. How fascinating. All Aboard
Other Amanwana adventures are abetted by a fleet of vessels. There is a right fit for any activity, be it rod fishing, diving or island hopping. We take one out to enjoy cocktails while we watch the sun set. After dinner the following day, we board another under cover of night, to gaze at stars. In the absence of light pollution, we are able to see more constellations than we can identify. Seeing the Milky Way is a first for me. Totally mesmerising.
For expeditions to Komodo, the Spice Islands or Raja Ampat, guests can charter the well-appointed live-aboard phinisis Amanikan and Amandira. I'm keeping that in mind for when I get my PADI certification. AM