After 15 years of self-imposed exile, Thailand's former Prime Minister Thaksin Shinawatra returned to thousands of excited supporters via a private jet, but his passion for watches was telling. In his first selfie, he is spotted wearing a Patek Philippe Grandmaster Chime, the kind of six-figure timepiece that you'd associate with billionaire baller businessmen of his stature and gravitas. However, it is in his second selfie, after he arrived at Don Mueang International Airport, that you see not the minute repeater high complication, but a bioceramic (not dissimilar in feel and texture to regular plastic for civilians) Omega MoonSwatch.
During the furore that was debut of a not limited production MoonSwatch (where shoppers endured limited supplies), it was common to find consumers asking, "Is the MoonSwatch a real Omega?" – if you're being generous, it can be taken as a legitimate, "Is this an official Omega product?" – then the answer is a resounding yes. If you're being less charitable, it can be taken as a "Does wearing the MoonSwatch connote the same level of prestige as a real Omega?" – then in that case, you're less of a watch lover but more of a brand lover.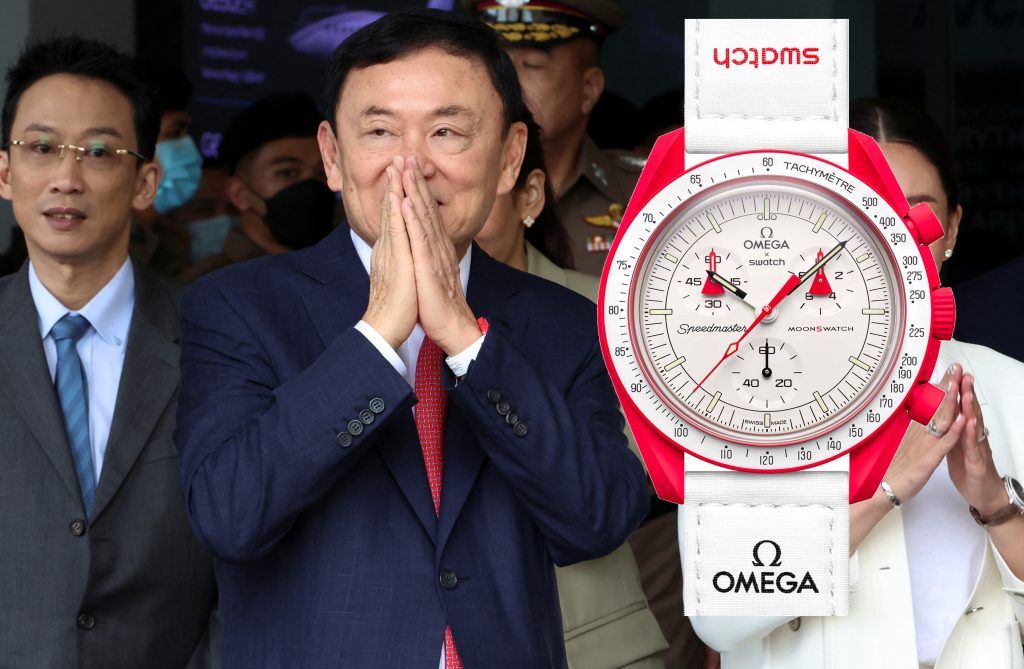 While there's nothing wrong with enjoying the associations with high prestige brands, the reality is that you're showing you don't really appreciate the timepieces for themselves but rather, what the logo on the dial can offer you. In Thaksin, we discover that he doesn't really care for the association a brand like Patek Philippe could bring him. He's after all a fabulously wealthy man, and perhaps he doesn't particularly care what others think of him – think
Steve Jobs and Bill Gates and their Casio watches. He put on a MoonSwatch as he arrived to greet his adoring fans and critics.
Could it be that Thaksin recognises the brilliant translation of aesthetics from the OG Moonwatch to the "plastic" MoonSwatch? Where so many homage watches fail, even copying all the elements of the original timepiece is that the aesthetics aren't faithful to the spirit of its muse. Alternatively, one could simply interpret that Thaksin, while facing a jail term of eight years, simply didn't want the hands of some grubby prison officer mishandling his Patek minute repeater. Either way, he's a man who owns a Swatch amidst his other six-figure timepieces and he's proud of it. written by.
Jonathan Ho
Managing Editor
Jonathan Ho might have graduated with a business degree but he thumbed his nose at commerce and instead opted for a harder life in journalism. He edits Augustman, a title he first joined when he became a writer after a career in advertising and now, earns a living writing commentaries on the luxury industry.