In the pantheon of modern haute horlogerie timepieces, few Maisons can constantly excite quite like Girard-Perregaux. Every new expression announced in recent memory has been a revelation. Ten years after its Constant Escapement became the stuff of legend, Girard-Perregaux has once again captured the imagination with the Neo Constant Escapement – a product of both history and modern engineering. With its skeletonized dial unveiling a resplendent repertoire of complexities, the Neo Constant Escapement is a thing of wonder from the most cursory glance to the closest inspection. The model holds a total of 13 patents, and incorporates fine materials, neoteric styling and ultra-refined finishing.
To understand the Neo Constant Escapement, one must turn back the clock to 2008, when the craftsmen at Girard-Perregaux first developed a unique, ultra-thin silicium blade with elastic and bi-stable properties. It is crafted using highly specialised techniques such as photolithography (a sophisticated procedure that allows for intricately shaped components, also used to create the silicium escapement spring), to create the basic shapes and Deep Reactive Ion Etching to carve out the components. The blade, six times thinner than human hair, is central to the escapement, the mechanism that controls the flow of time. The high elasticity of silicium allows the blade to repeatedly buckle, engaging with the balance wheel at a rate of 20 times per second and serving the balance with a constant force above the energy already provided by the barrels. This mechanism was first used in 2013's Constant Escapement L.M., a now-legendary timepiece that won the won the prestigious prize 'Aiguille D'Or' at the GPHG (Grand Prix d'Horologerie de Genève) on the year of its release.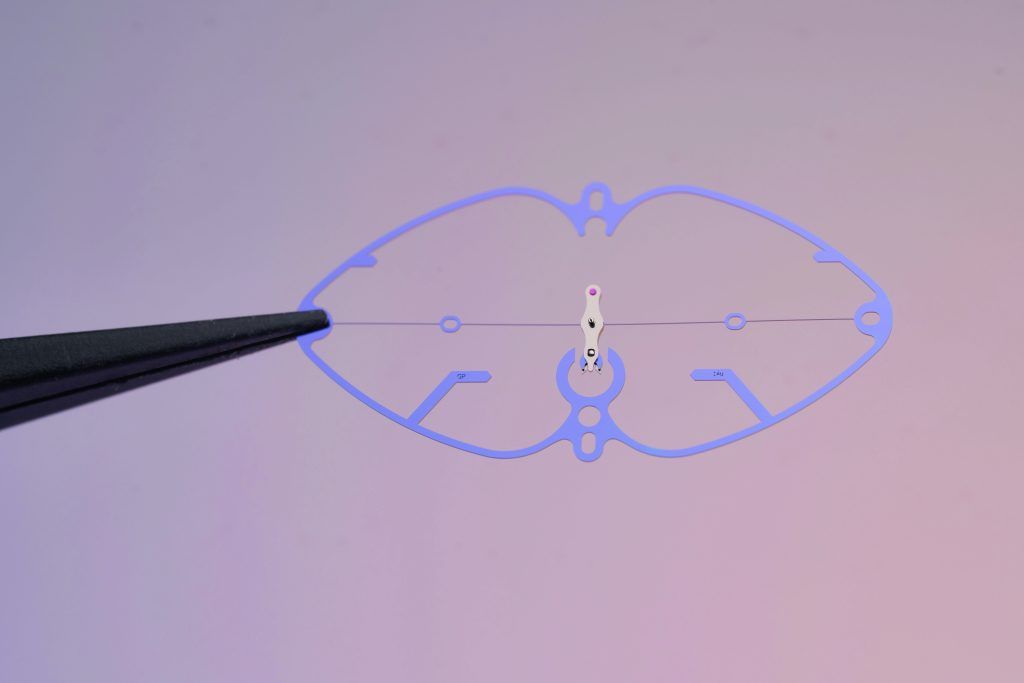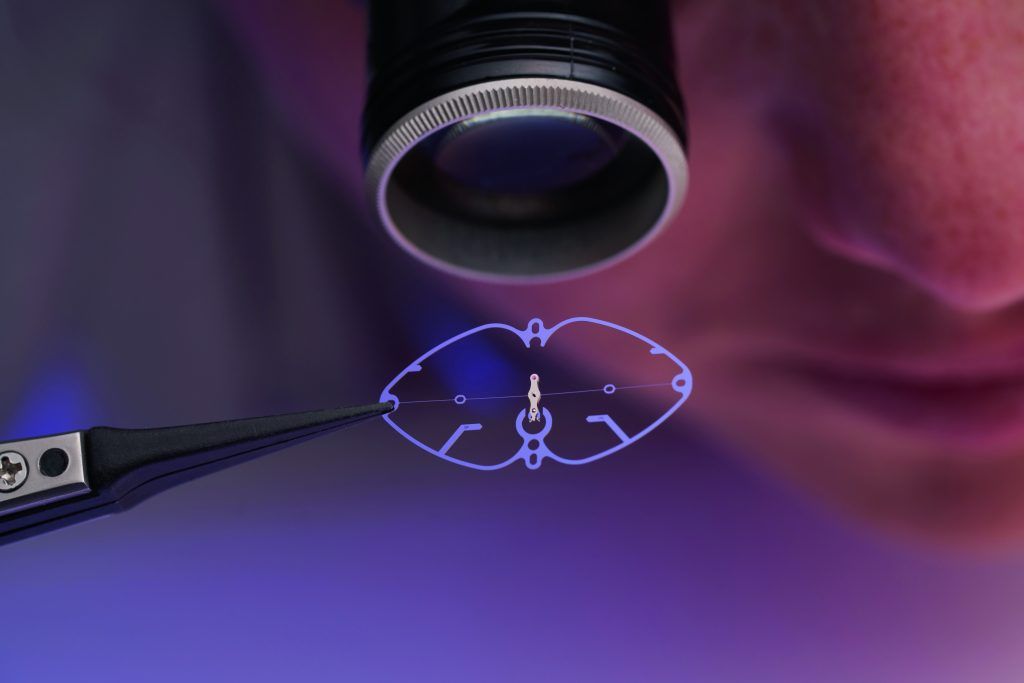 Beyond its functional role, this component is instantly recognisable and its symmetrical appearance resonates with Girard-Perregaux, a Maison synonymous with the Laureato's octagonal shaped bezel and the legendary Bridges. This is definitive of the fine craftsmanship put into the Neo Constant Escapement – both in the creation of its components as well as its aesthetics. It is a watch that is meticulously put together – every decision from engineering to craftsmanship was a deliberation to deliver a robust yet alluring watch.
We can see this also in the Maison's descision to integrate a fifth wheel into its gear train. This component transmits energy sequentially rather than simultaneously to two escape wheels, operating at a frequency of 3Hz, which is then redistributed to the aforementioned ultra-thin silicium blade. This is essential in solving a common problem in watchmaking when precision is undermind when the spring barrel of a fully wound watchexerts excessive force on the regulating mechanism. Conversely, as the energy in the barrel depletes, the regulating mechanism may receive insufficient force, once again negatively affecting accuracy. The Constant Escapement effectively addresses these challenges by ensuring a consistent supply of force to the regulating mechanism, thereby achieving remarkable rate stability.
And these form the beating heart of the Calibre GP09200, which boasts an incredible linear power supply of at least 7 days. For achieving such lofty standards of accuracy and timekeeping, the chronometer has been recognised by the industry, and is COSC-certified.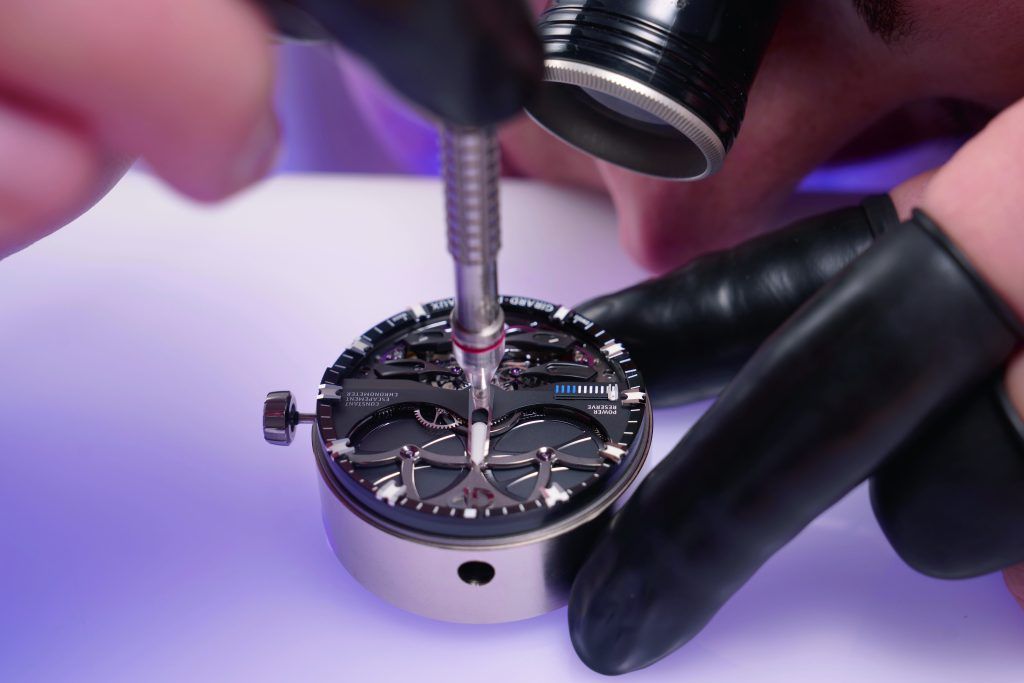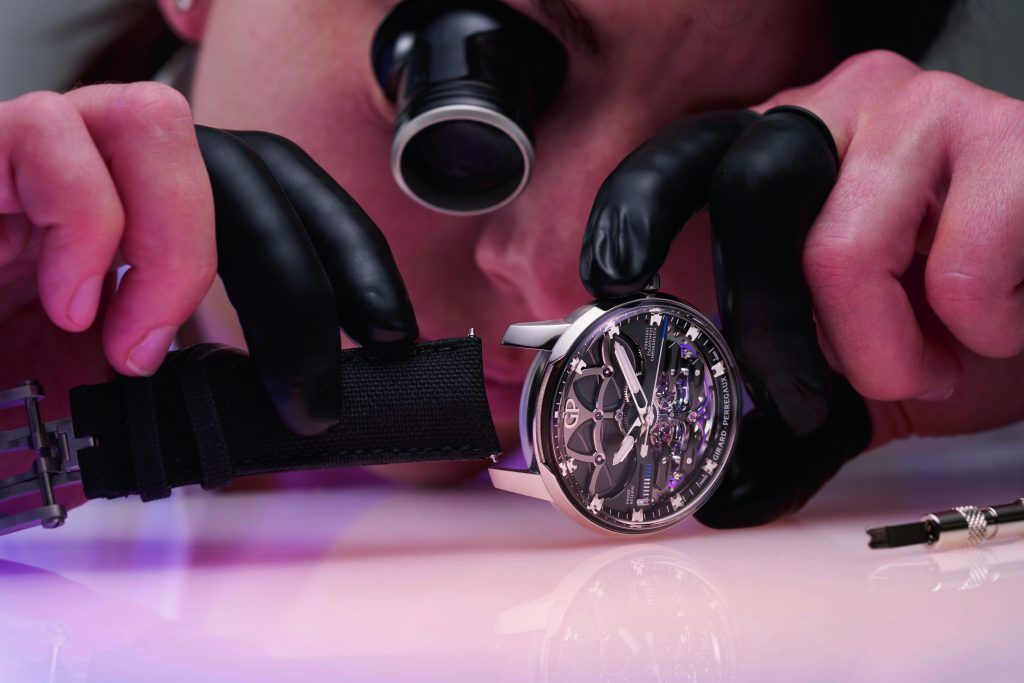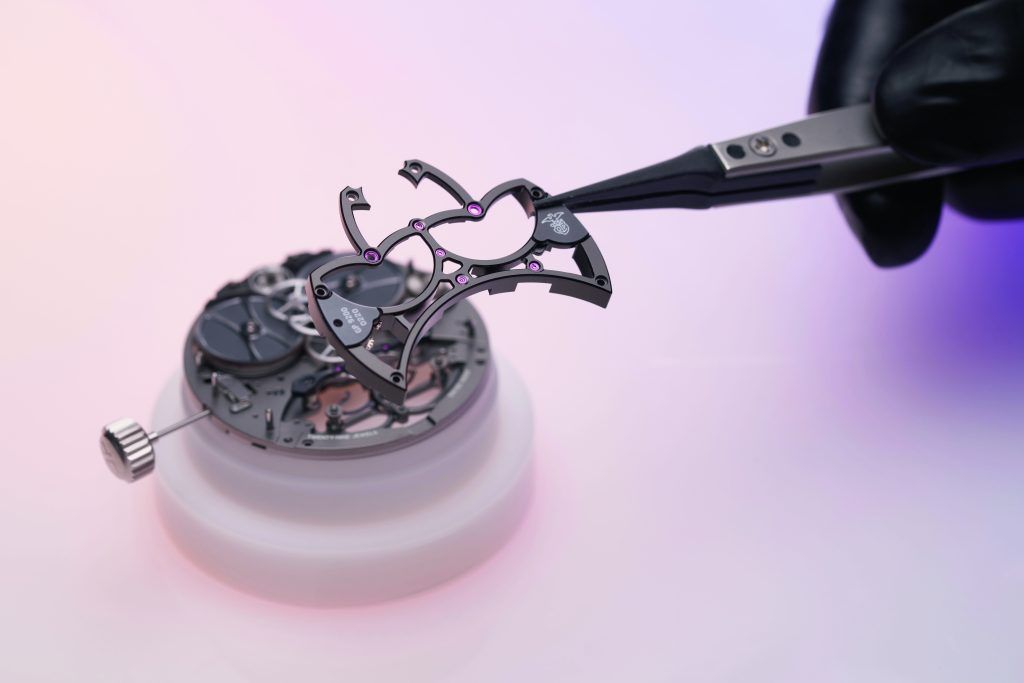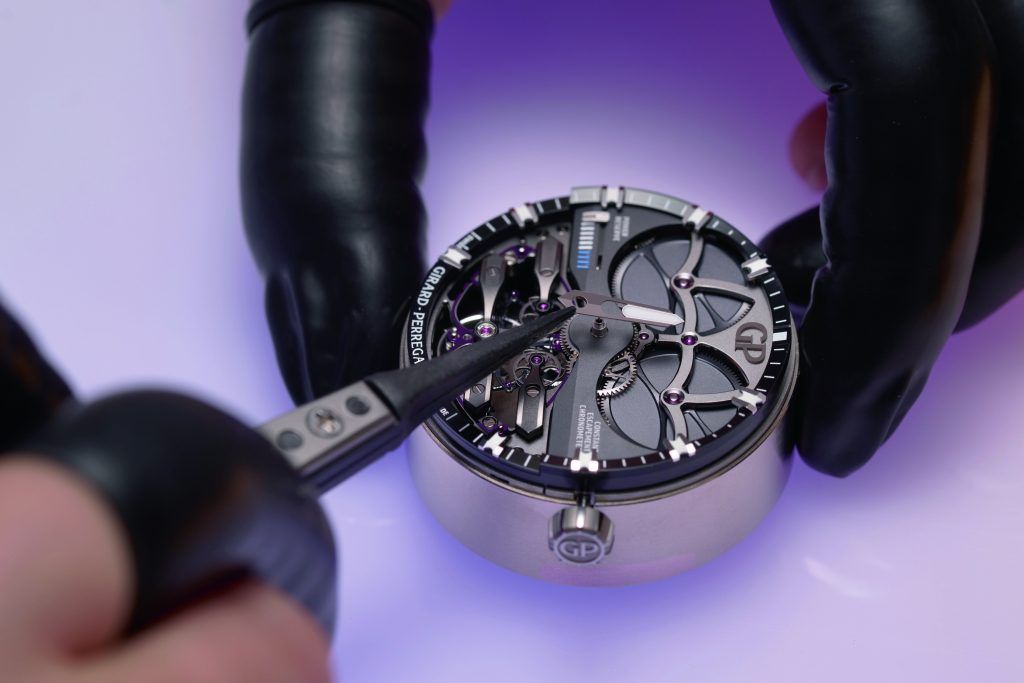 The watch is also aesthetically apealing, with its skeletonized, rhodium-plated dial, given the 'dauphine' treatment. The use of photolithography also makes for visual elements that combine industrial sophistication and urban chic, while nifty features such as the power reserve indicator adds even more intrigue to an already deeply compelling watch. Its design incorporates the key signature elements from the Bridges collection, which has been celebrating the beauty of mechanics for more than 160 years. The masculine, 45mm case is paired with a fabric-effect black rubber strap clasped together with a titanium triple folding buckle with micro-adjustment system. The Neo Constant Escapement is a great testimony to Girard-Perregaux's history of innovation and proves that the Maison can stay true to its roots, while incorporating the avant garde in technology, materials and aesthetics. While it took 250 years to develop the Swiss lever escapement, Girard–Perregaux perfected its Constant Escapement in just 20 years, proof of Girard-Perregaux's steadfast dedication to research and development. This timepiece builds on the legends that precede it, and will surely become one, in its own time.
Specs
Case 45mm titanium case with sapphire anti-reflective 'box', water resistance of up to 30 meters
Movement Reference GP09200-1153 hand-wound mechanical movement with COSC-certified Chronometer, power reserve of 7 days
Price SGD$138,400
For more information visit The Hourglass website.
written by.
Suffian Hakim
Senior Writer, Augustman Singapore
Best-selling novelist, playwright and screenwriter Suffian Hakim is AUGUSTMAN Singapore's Features Editor. He writes articles on arts, culture, entertainment, cars, watches, travel and more - all in an effort to properly investigate and define that nebulous, all-encompassing L-word: lifestyle.