When it comes to luxury watches, Patek Philippe is one of the most renowned names in the horology world. After all, the Swiss brand is known for its luxurious add-ons, contemporary designs and high-quality timepieces that cater to everyone's aesthetic.
View this post on Instagram
Founded in 1839, over the years, the Swiss brand has produced a wide range of watches, including sports watches as well as timepieces with functions like perpetual calendars, minute repeaters and tourbillons.
At Watches and Wonders 2023, Patek Philippe too unveiled new statement pieces featuring innovative technology. From exciting additions to the Grand Complications collection to new Calatrava models, the luxurious brand showcased some of the best timepieces from its 2023 collection.
Watches and Wonders 2023: Patek Philippe introduces new watch models
Watches and Wonders is an annual event that showcases the latest releases from some of the world's top luxury watch brands. Formerly known as the Salon International de la Haute Horlogerie (SIHH), the event features exhibitions, presentations and other activities related to the world of high-end timepieces. It provides brands like Rolex, Patek Philippe, Audemars Piguet and many others the opportunity to unveil their latest creations to the public and media. These watches often feature innovative technology and premium design elements and are highly sought after by collectors and enthusiasts alike.
So, without further ado, here are eight of the best Patek Philippe watches we saw at Watches and Wonders that warrant your attention.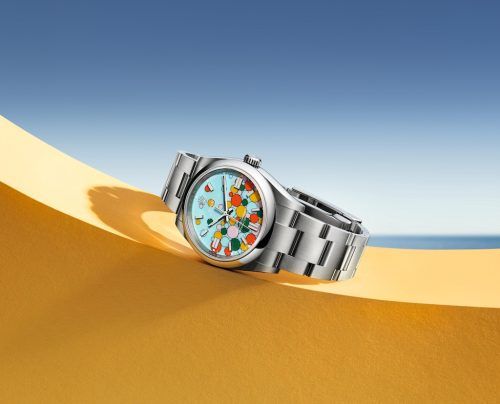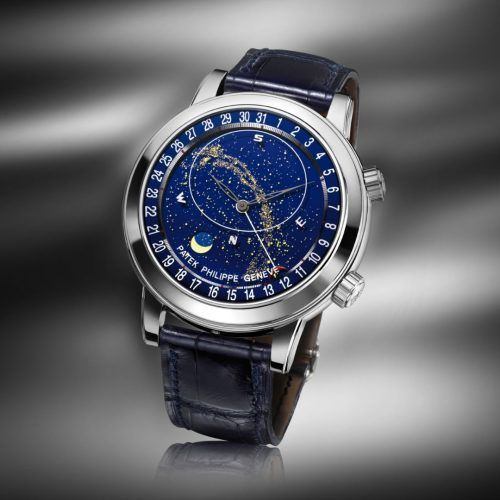 8 Patek Philippe's watches of 2023 that men should have on their radar
(Hero and image credit: Courtesy Patek Philippe)
Jump To / Table of Contents
01
Patek Philippe 6300GR-001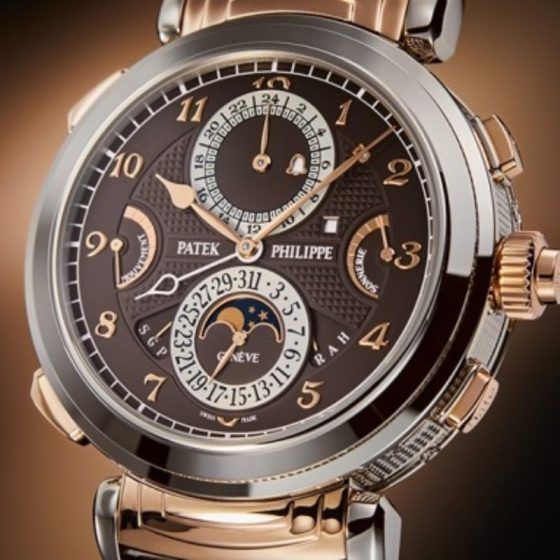 Patek Philippe has introduced its Grand Complications collection, and the 6300GR-001 timepiece has been dubbed the "most complicated wristwatch". The timepiece's 'two-toned' design combines white gold and rose gold with a brown opaline dial. The watch runs on Caliber 300 GS AL 36‑750 QIS FUS IRM, a manually wound mechanical movement. The patinated dark chestnut straps are hand-stitched and made of alligator leather with square scales. Additionally, the watch comes with white gold cufflinks which feature a brown opaline centre, a hand-guilloched hobnail pattern and a rose gold Calatrava cross.
(Image credit: Patek Philippe)
02
Patek Philippe 6300/403G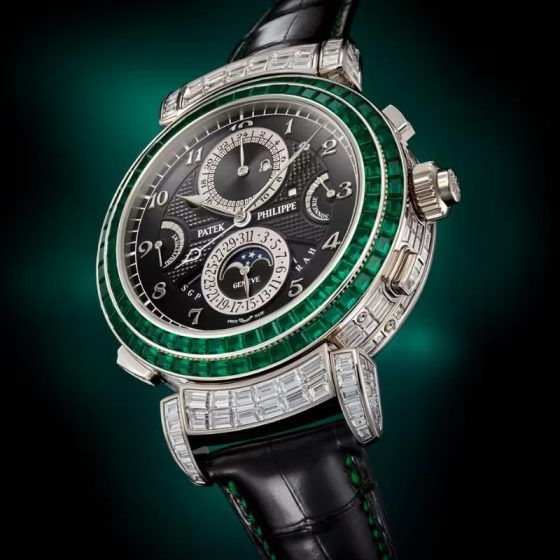 Patek Philippe is creating a new alliance between Haute Horlogerie and Haute Joaillerie by reinterpreting its most complicated wristwatch in a white gold version set with 118 baguette-cut emeralds and 291 baguette-cut diamonds, using the invisible setting technique. The watch comes with a shiny black leather strap, engraved with green hand-stitched details, and is fastened with an emerald-set fold-over clasp.
(Image credit: Patek Philippe)
03
Patek Philippe 5316/50P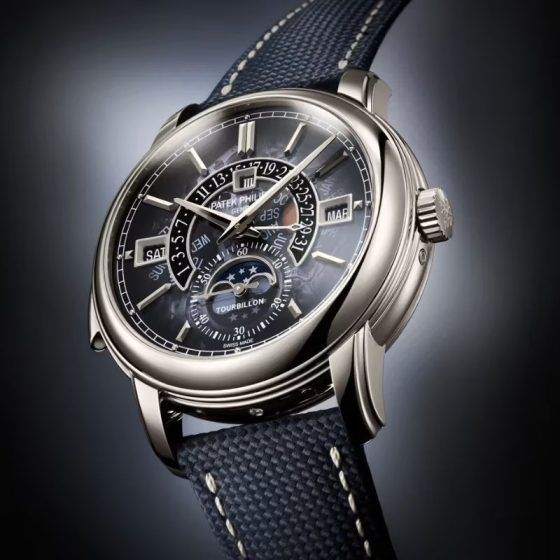 The Grand Complication Reference 5316 has a new contemporary look with a platinum case and a blue metallised sapphire crystal dial with a black-gradient rim. This stunning timepiece is manually wound with calibre R TO 27 PS QR and combines a minute-repeater, a tourbillon and a perpetual calendar with a retrograde date display and moon-phase indication. The original face of this new model is enhanced by a navy blue strap with a fabric pattern, contrasting cream-coloured stitching and a platinum fold-over clasp.
(Image credit: Patek Philippe)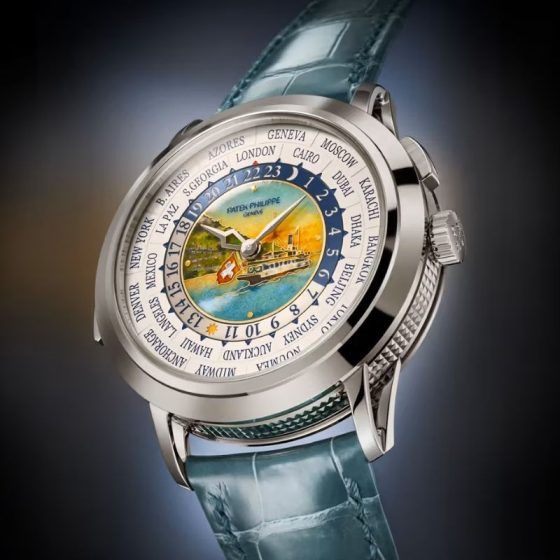 The Patek Philippe 5531G model now comes with a white gold build. The centre of the dial is adorned with a new cloisonné Grand Feu enamel motif depicting one of the famous steamships of the Belle Époque fleet still sailing on Lake Geneva today. This timepiece runs on the calibre R 27 HU, a self-winding mechanical movement, and comes with hand-stitched, classic alligator leather straps in shiny blue-green with square scales.
(Image credit: Patek Philippe)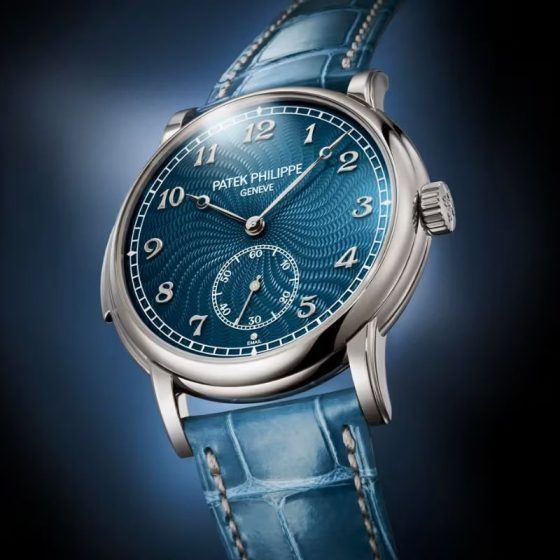 Quite similar to the 5531G model, the Patek Philippe 5178G timepiece also features a self-winding mechanical movement and is embellished with a Grand Feu enamel dial. Instead of scenery in the dial, this timepiece comes with a hand-guilloched pattern of blue transparent enamel. The dial is finished with a translucent enamel coat along with a peacock blue leather strap. There is also an orange strap variant that you can opt for instead.
(Image credit: Patek Philippe)
06
Patek Philippe Calatrava Travel Time 5224R-001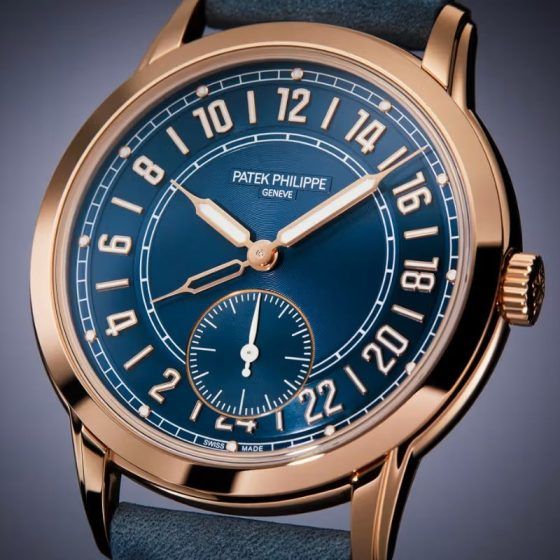 Patek Philippe is expanding its range of travel watches with a new self-winding Calatrava Travel Time 5224R-001 model featuring a distinctive 24-hour display. It comes with a self-winding mechanical movement and runs on calibre 31‑260 PS FUS 24H. The hand-stitched straps of this stunning timepiece are in navy blue and feature a nubuck finish.
(Image credit: Patek Philippe)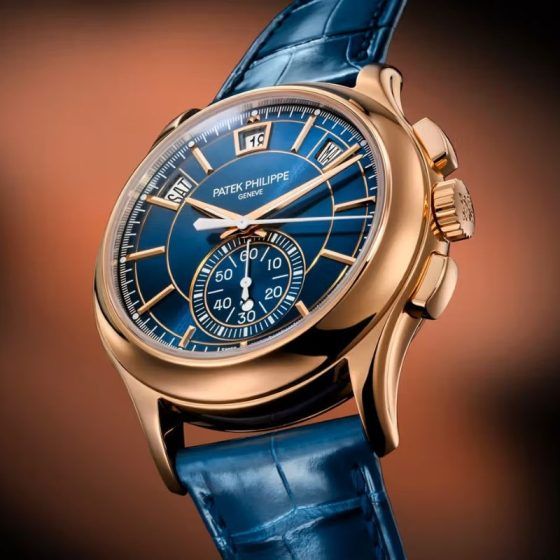 Offering the perfect amalgamation of two popular Patek Philippe complications, the 5905R is a self-winding flyback chronograph that comes with an Annual Calendar. Available in a new rose gold version with a sunburst blue dial, the impressive Annual Calendar feature in this watch automatically changes to 30 and 31-day months and only requires one correction per year, which is at the end of February. This wristwatch runs on calibre CH 28‑520 QA 24H and comes with shiny dark blue straps made from alligator leather.
(Image credit: Patek Philippe)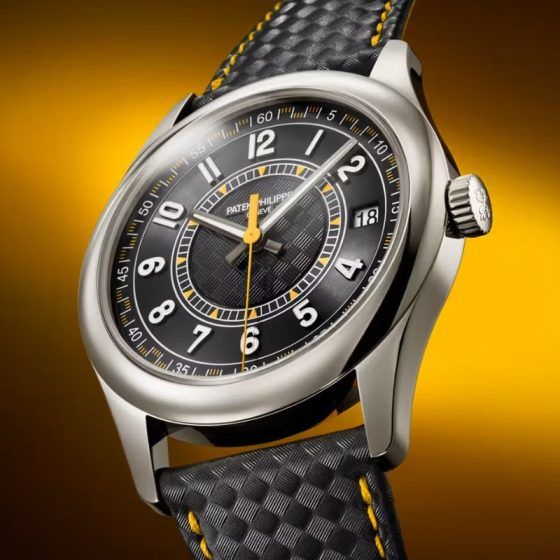 Patek Philippe has expanded its Calatrava collection with new 60007G models. These three watches are embellished with primary colours on the counters, seconds hand and the stitching. This unique design is enhanced by three colours – yellow (6007G-001), red (6007G-010) or sky blue (6007G-011). With a self-winding movement, this exquisite watch comes with a white gold and sapphire crystal back case.
(Image credit: Patek Philippe)
Frequently Asked Questions (FAQs)
Question: Is Patek Philippe more expensive than Rolex?
Answer: Patek Philippe timepieces are usually more expensive than Rolex watches.
Question: Which is the cheapest Patek Philippe watch?
Answer: The Golden Ellipse watch 5738R-001, priced at USD 33,000, is one of the more affordable Patek Philippe watches.
Question: Who wears a Patek Philippe?
Answer: Patek Philippe is quite popular amongst celebrities such as Drake, Jason Statham, Victoria Beckham, Kevin Hart, Ed Sheeran and more.
Question: Who is the owner of Patek Philippe?
Answer: The company has been owned by the Stern family since 1932.
written by.
Sanika Achrekar
Digital Writer, Augustman
Sanika lives for fashion and skincare. She enjoys writing about style, beauty, and lifestyle. She worked as a fashion writer for Man's World India magazine. When not writing about designers and trends, she likes to shop, travel, try new Sushi restaurants, practise pilates and rewatch her comfort shows.