Here at Augustman, we believe in the Quantified Life, where empirical data and personal improvement combine, driven by state-of-the-art technology – from wearables to data-driven smartphone apps – that give us a measurable sense of our progress in various aspects of our lives. When it comes to fitness, nothing quite exemplifies the Quantified Life as the exercise machines from Technogym. These machines are catered to your personal fitness and exercise goals, and unlike regular gym machines, it provides you with the data you need to track your progress. No Mere Machine: Precision Training with Technogym
When it comes to the perfect blend of data-focussed fitness, world-class exercise hardware and award-winning design, Technogym's Personal Line of home fitness equipment is the global standard. Paired with Technogym's digital ecosystem powered by AI, the Technogym App's smart coach gives you a a personalised plan powered by scientific research and artificial intelligence. Through your Technogym ID, you can connect to your personal profile to any Technogym device wherever you are in the world and in whichever well-equipped hotel gym you're in. Synced with the Technogym equipment, the Technogym App offers insight on how to best use them while also providing specific bodyweight workouts. In a series of questions answered by the user, the smart coach's artificial intelligence can assess which programs are best adapted to your goals (fat loss, strength training etc), progression, time, and available equipment, known as Precision Training. Among the different types of questions you will be asked to answer "What makes you move?":
‍Fitness: Getting in shape and feeling better;
Sport: Upping my game in my favourite sport;
Health & Lifestyle: Working out with a program to improve my health. Going into detail, the app eventually assigns you a tailored Fitness Program that gives you the ideal routine to get in shape, lose weight, tone up, build muscle or simply remain youthful. Furthermore, the Movergy Index embedded within the app which keeps up with the user's movements in order to achieve the best results.
Optimal form with Technogym
Unlike regular gym machines, Technogym equipment gives you realtime feedback either to your app or on the machine that encourage you to perform each rep at the most optimal tempo and weight, allowing you to achieve the best results.
Today, let's look at their Personal Line, where the home fitness equipment ikigai of artisanal design, goal-focussed functionalities and state-of-the-art exercise tech overlap seamlessly. Designed by renowned Milanese architect, furniture designer and industrial designer Antonio Citterio, the Personal Line uses luxurious materials and avant garde craftsmanship while still adhering to the goal-training facilities that make Technogym the Official Supplier of the last 8 Olympic Games. There are altogether six machines in Technogym's Personal Line.
The Run Personal The Run Personal is perhaps Technogym's most iconic, most easily recognizable product. It is silent yet powerful, a treadmill with a running surface that adapts to you and gives your feedback to improve your runs. It is also as much known for the quality of its hardware as it is for the Technogym Live, here a veritable theatre of data and entertainment options.
The Cross Personal When you take in the streamlined, micro polished details of the Cross Personal's design, it's easy to forget that you're looking at an exercise machine. But try it on and you'll find extremely smooth elliptical movement that helps you go the distance, and minimises impact stress to your knees and ankles. Paired with a high-performance Treble Dolby Surround tweeter speakers for an incredible Dolby Surround effect, you'll find yourself immersed in an audiovisual experience that takes your mind away from fatigue. For those who want to go the distance, the Cross Personal is perfect for leading your body into new levels of performance, with style.
The Recline Personal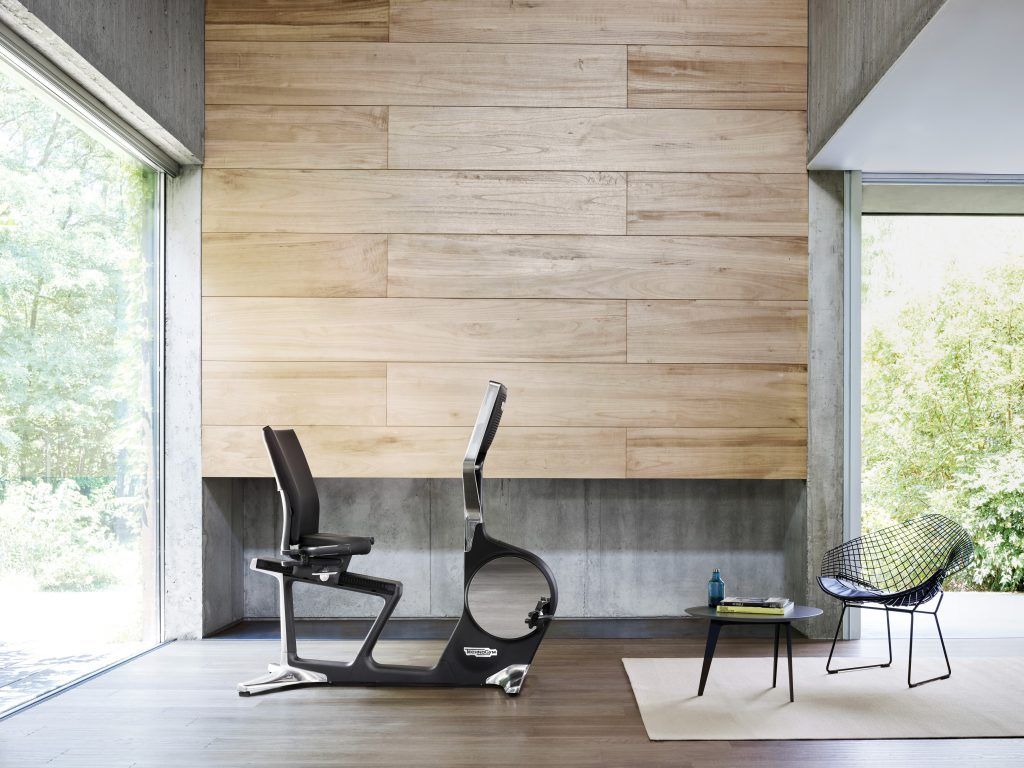 The award-winning Recline Personal, co-designed by Swiss luxe furniture company Vitra and Antonio Citterio and recipient of the 2012 "Best of the Best" Red Dot Design product category, is equal parts designer masterpiece and exercise bike. It is meant to fit seamlessly into a designer home, while providing the high-tech functionality and personalisation we've come to expect of Technogym products, such as broad Quick & Easy pedals, instant posture adjustments and interconnectivity options.
The Kinesis Personal With a gorgeous leather backing, the Kinesis Personal could be mistaken for a feature wall. Upon closer inspection, however, you will find an extremely functional machine that offers 200 exercise possibilities in less than ten square feet. Created to enable coordinated movements based on resistance techniques, the graceful, compact Kinesis Personal is especially built for strength, flexibility and balance training.
The Bike Personal The Bike Personal is an upgrade on your average exercise bike with elegant lines, ergonomic professional materials and personalized training options.
The Power Personal The Power Personal combines a bench and a rack with free weights. It comes with a Smart Lock and Precision Guide system for safe, seamless workouts.
Most of the Personal Line products come with the pioneering Technogym Live console, a digital user interface that helps provide the data, motivation and even entertainment you might need in your workouts. For those who need visual accompaniment to your workouts, the console provides Outdoor Virtual Training, that shows outdoor landscapes from across the world, including through the streets of Rome, or coastal paths in Greece. The console is also connected to Netflix and YouTube if you want to burn calories while binge-watching Bridgerton.
But more importantly, the console features digital content designed to help you meet your personal goals, whether it is to lose weight, gain muscle or build stamina. Technogym Sessions are trainer-guided sessions produced in-house with industry experts at Technogym to provide you new content throughout your fitness journey. You can also access the Technogym Routines, which challenges you with a variety of exercises with a specific goal and intensity automatically set up to your profile, or Exercises, a collection of traditional goal-oriented training based on time, distance or calories as determined by you.
The revolutionary Technogym Coach platform, the first ever artificial intelligence fitness trainer, gives you a completely personalized experience. It tracks your progress and gives your programs and intensities to help you achieve your goals.
This data can also be tracked on the Technogym app. More about the Technogym App
The Technogym App is a one-stop hub for all your fitness needs. It allows you to set programs based on your goals. There's Fitness, to get in shape, lose weight, tone up and build muscle; Sport, to maximise your performance in tennis, golf, running or skiing; and Health and Lifestyle, a suite of programs suitable for those with health conditions such as diabetes, hypertension and obesity.
The app also incorporates the Technogym Coach you have in Technogym Live. The machines and the app are highly interconnected, so you can experience precision training regardless if you are at home, at the gym, or out on your daily runs. The app is useful even if you do not have a Technogym machine. With bodyweight exercises, you can still benefit from the Technogym ecosystem and achieve superior results faster.
In the age of data, a Quantified Life can help you make more informed decisions when setting and achieving your goals. And when it comes to fitness, nobody does a Quantified Life quite like Technogym.
For more information and to get your Personal Line of home fitness equipment, visit their website here.
written by.
Suffian Hakim
Senior Writer, Augustman Singapore
Senior Writer at Augustman inside the office. Bestselling author, screenwriter, playwright and Nutella addict outside the office. Covers everything from cars to culture to sustainability. Has spent over ten years writing self-referential author bios such as this.