Many of us are coming of age where Facebook status updates announcing that we won't be doing New Year's Eve countdown parties because we'd rather be in bed with Netflix are becoming more common. For some of us, the halcyon days of our teenage years spent with overnight sessions clubbing and then the cup noodle suppers seated by the kerbside outside of a 7-11 near Great World City are starting to look further behind in the rearview mirror. But, what if we could capture that vitality once again? What if a combination of exercise, sensible choices and the right nutritional supplements could at least recapture some of that energy and drive you once had?
Enter Swisse, an Australian Health and wellness brand founded in the late 1960's by Kevin Ring on the simple premise of exploring the world in search of nutrient rich ingredients gifted by nature. In Swisse Ultiboost Male Vitality, Ultivite Men's Multivitamin, and Men's 50+ Multivitamin, Swisse has given us a bounty for complete men's health and wellness. According to the studies conducted by Harvard Medical School and published in the Journal of the American Medical Association, research has shown that vitamin deficiencies occurred as men aged, leading to increased body fat, muscle loss, decreased bone density, and changes in mobility and cognitive function. Though for the large part, the clinical data suggests that the majority of adults don't suffer deficiencies to the level that health supplements are required, the reality is that many nutritionists, athletes and active males do take supplements due to the low costs and low risks associated with these products and the fact that by the time your body alerts you to nutritional deficiencies, it's already too late. Research shows the risks are low, and there are real benefits for most people: Taking a daily multivitamin is a cost-effective way to insure against hidden micronutrient insufficiencies that can sap your immunity, health and long-term vitality.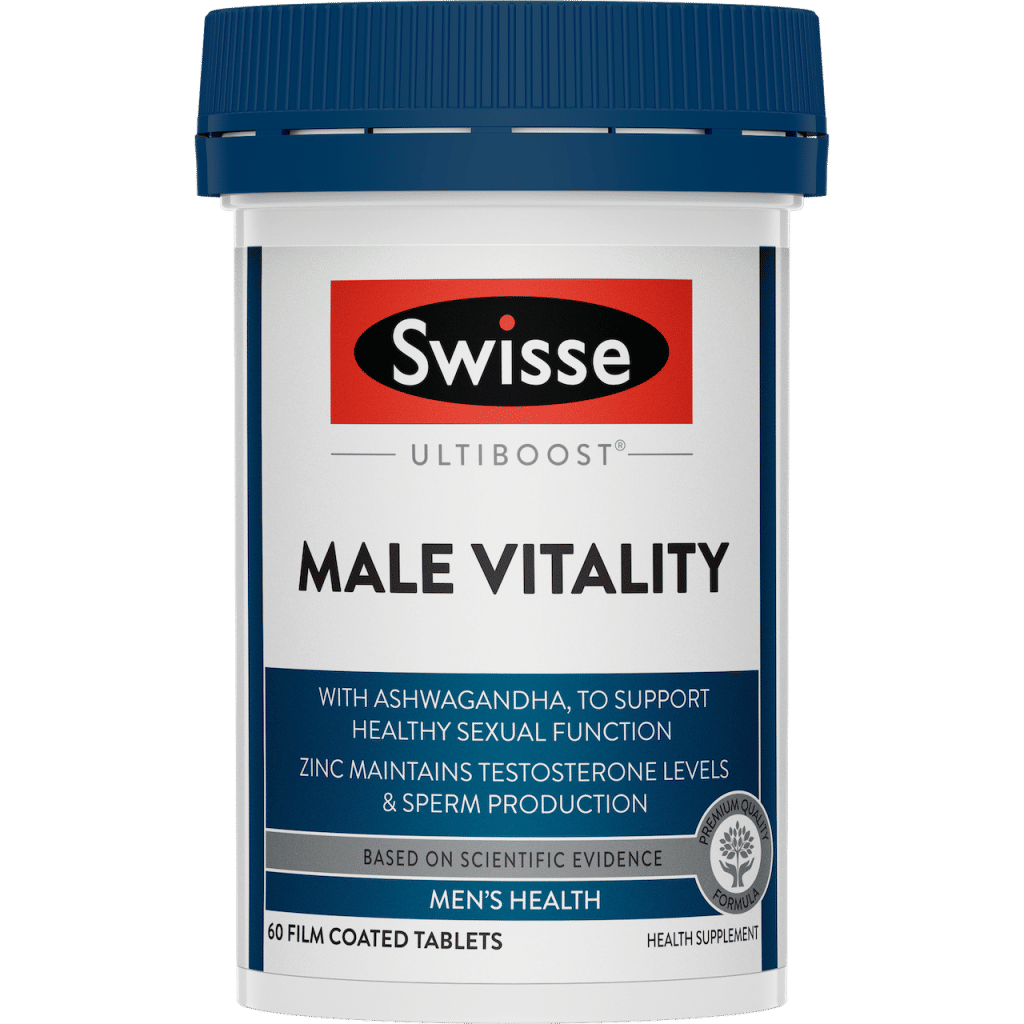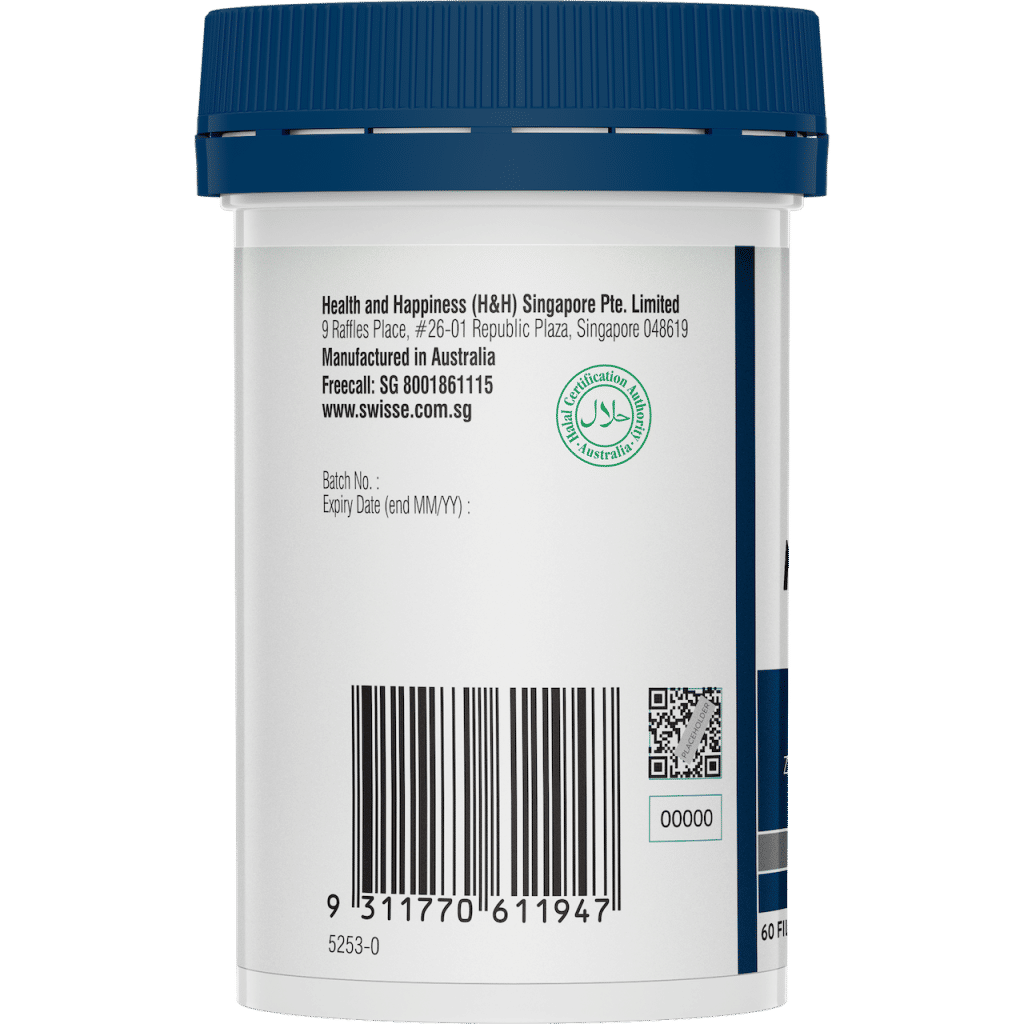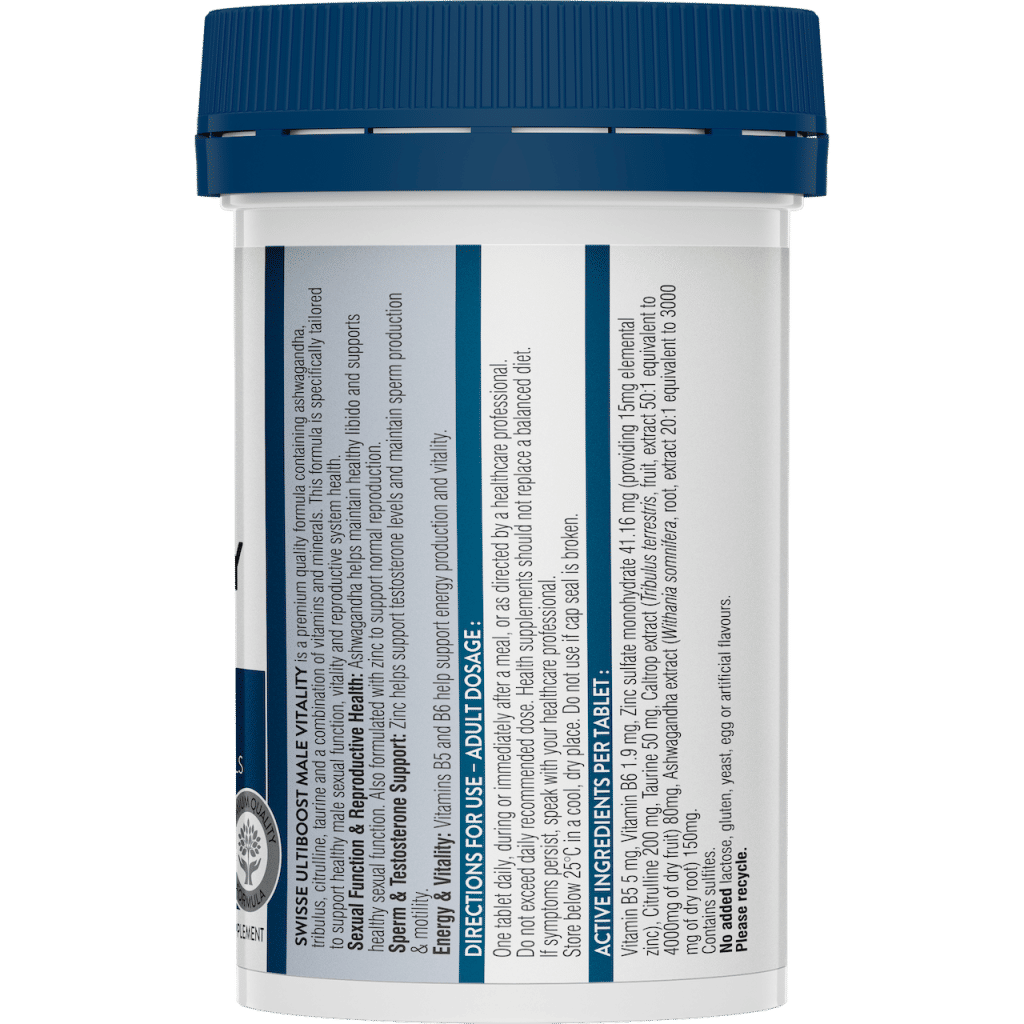 Swisse Ultiboost Male Vitality
Swisse Ultiboost Male Vitality is the brand's newest supplement, a premium quality formula containing ashwagandha, tribulus, citrulline, taurine and a combination of vitamins and minerals. There's a reason why four of these ingredients are given a place of prominence in this cocktail of pharmaceuticals. Taurine is an amino acid found abundantly in brain, retina, heart, and reproductive organ cells, as well as in meat and seafood – it might sound familiar because energy drinks like Red Bull derive a lot of their effectiveness from this vitamin. It is important in the metabolism of fats, a key to energy metabolism and it also helps the body process bile acid and balance fluids, salts and minerals, among other actions.
Traditionally used as an adaptogen – plants and mushrooms that help your body respond to stress, anxiety, fatigue and overall wellbeing – Ashwagandha contains chemicals that help calm the brain, lower blood pressure, and bolster the immune system. Have you ever been in a bedroom situation where performance anxiety has interfered with your ability to err, rise to the occasion? Fear no more because this herb not only calms you and keeps you "in the zone", it actually increases your libido.
Tribulus terrestris is a plant from Ayurveda where the root and fruits are used for male virility and general vitality, but its more common usage is for bodybuilding. Studies investigating the use of the herbal supplement for muscle-building used doses ranging from 770 milligrams to 1,250 milligrams per day in order to help build lean muscle mass by naturally boosting serum testosterone levels – that is to say, it doesn't increase your available testosterone but it does make sure you produce the maximum amount possible according to your biological make up. This in essence also promotes endurance, muscle repair, muscle strength, and recovery. Swisse Ultiboost Male Vitality is specifically tailored to support healthy male sexual function, vitality and reproductive system health.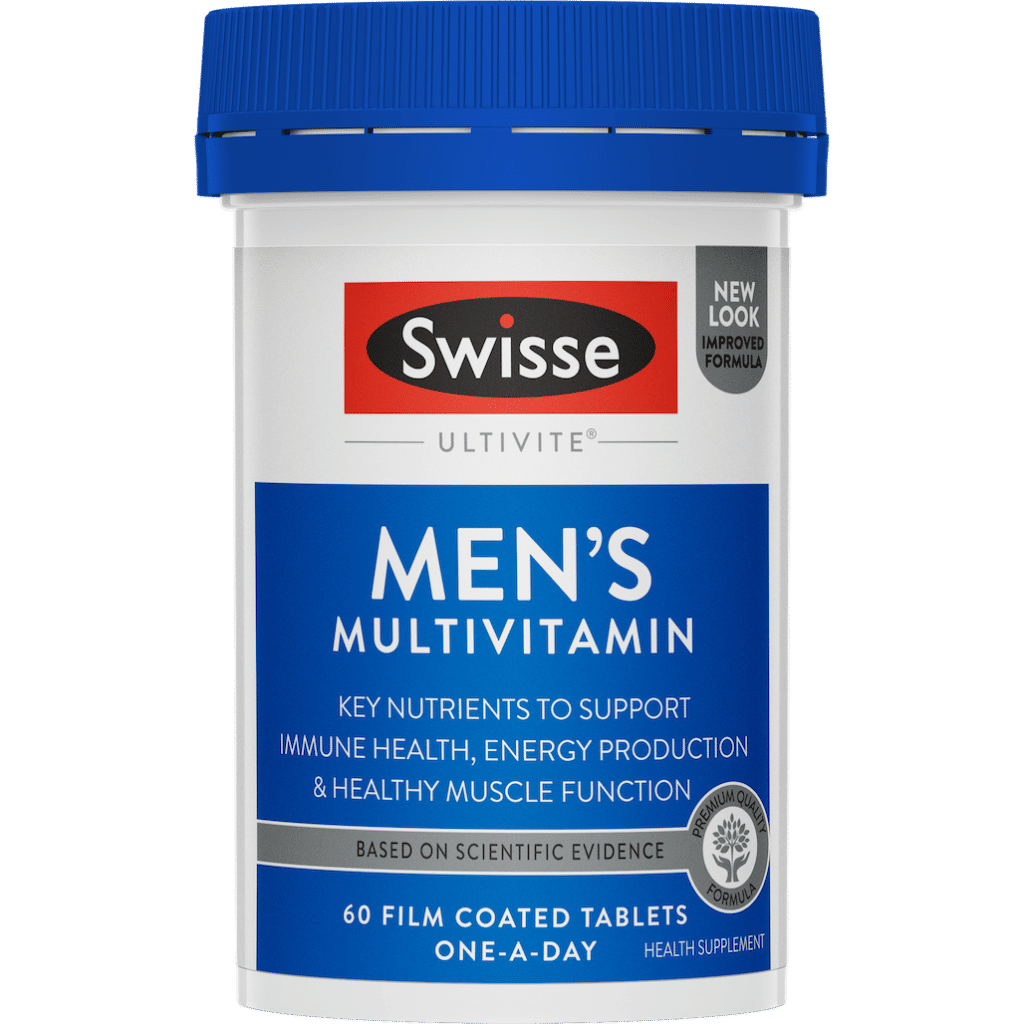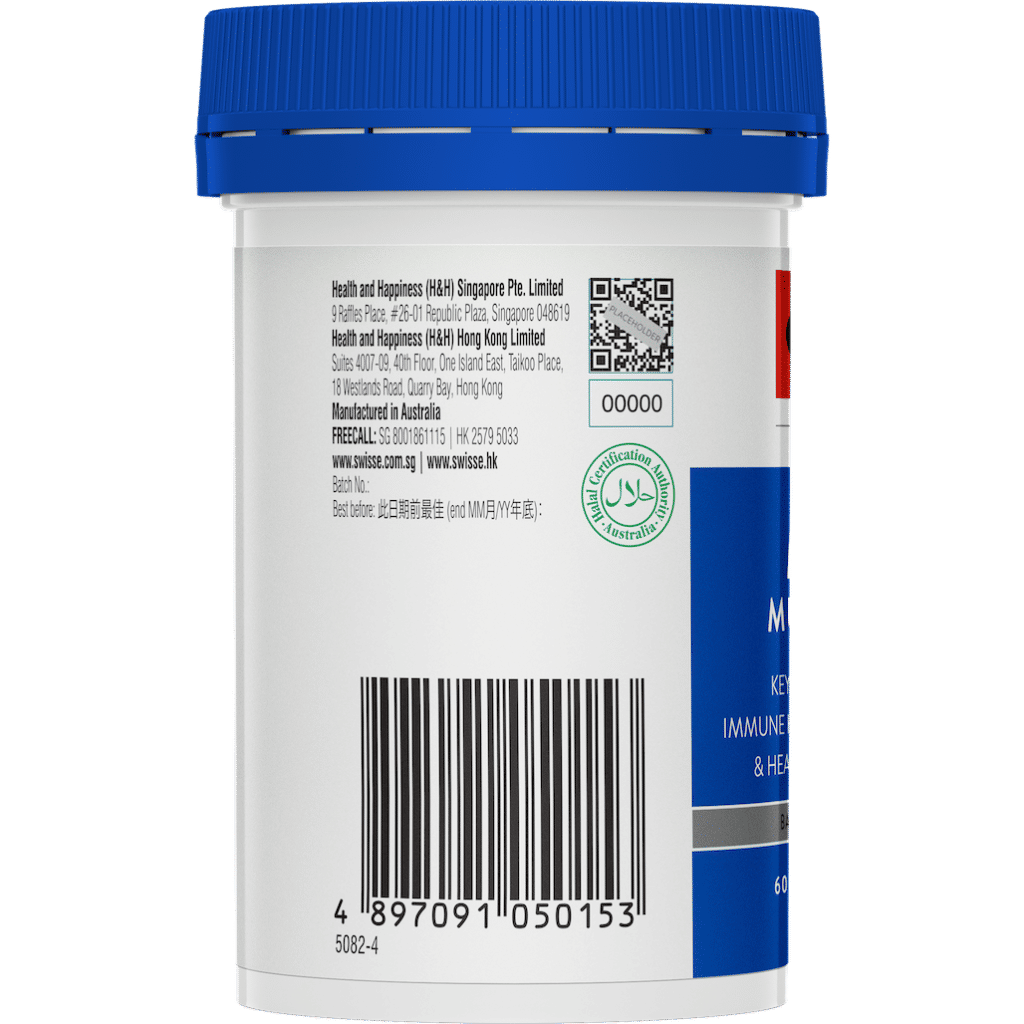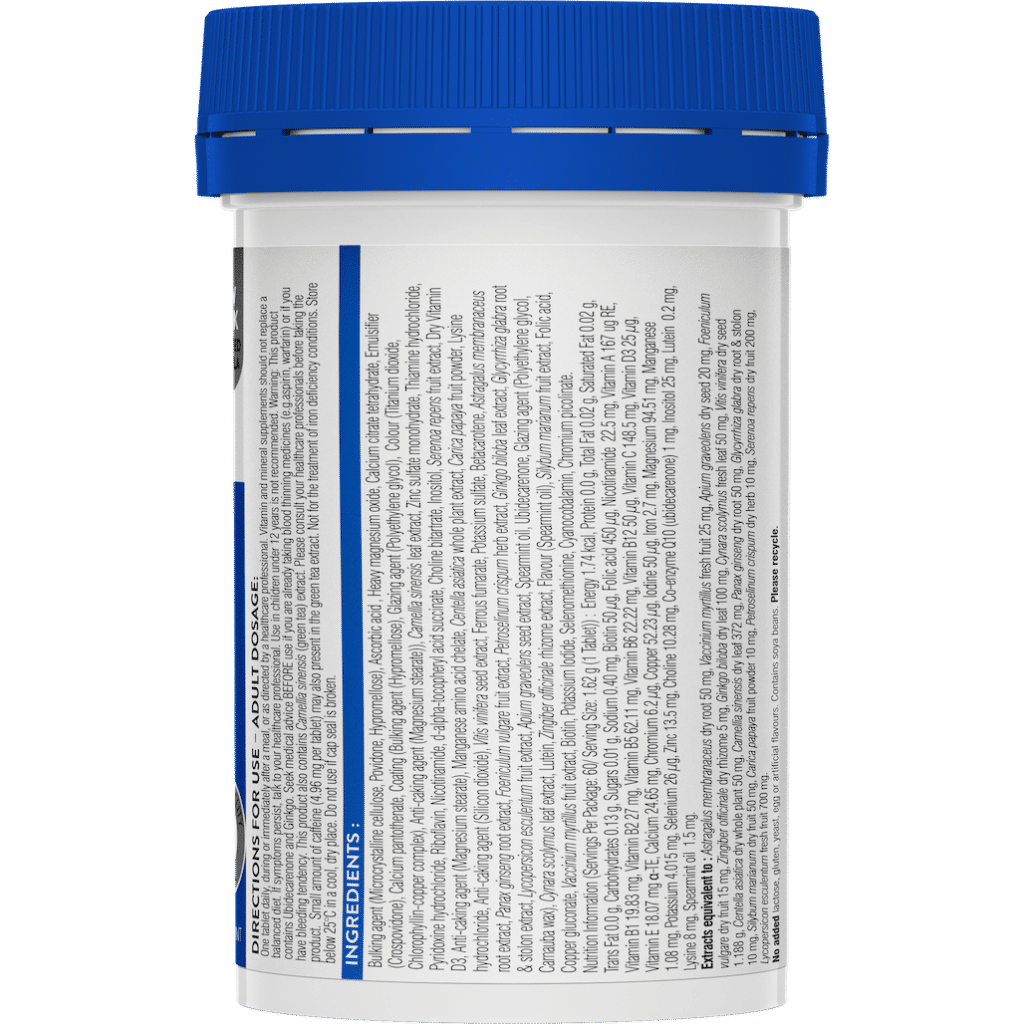 Swisse Ultivite Men's Multivitamin
A premium quality formula combines 45 vitamins, minerals plus antioxidants & herbs, Swisse Ultivite Men's Multivitamin is specifically designed for men 18-49 years of age to support immune health, energy production & healthy muscle function. Tailored for men to support general health and wellbeing, Swisse Ultivite Men's Multivitamin has 5x more vitamin D to support immune health and bone health; while it's essential for all of us, but it has unique benefits for men. The male reproductive tract is known as a tissue for vitamin D. Testosterone (a male hormone) plays a crucial role in bone mass, muscle strength, fat distribution, and even sex drive. When used in conjunction with Swisse Ultiboost Male Vitality, one can supercharge their reproductive health.
Studies have shown that adequate vitamin D intake can support healthy testosterone levels. According to the National Institute of Health, testosterone levels gradually decreased with age, being highest in the 20–25 years age group and lowest in the 65–70 years age group, this is certainly an area many of us need some supplementation in to keep up our T-levels.
Furthermore, its boosted formula provides nutritional support for a busy and active lifestyle with ingredients like Magnesium, a vital macro mineral that helps men stay healthy and active. The mineral has a beneficial role in supporting testosterone levels, heart health, reducing the risk of metabolic conditions, improve sleep, and support mental health. Assisting immune function, patronage of healthy cell growth, Zinc plays a crucial role in preserving prostate health, sexual health and testosterone hormone levels. Finally, compounds in cherry tomatoes are associated with a lower risk of multiple diseases, including prostate cancer – lowering the chance of getting one of the most common cancers in men's health is a definite plus!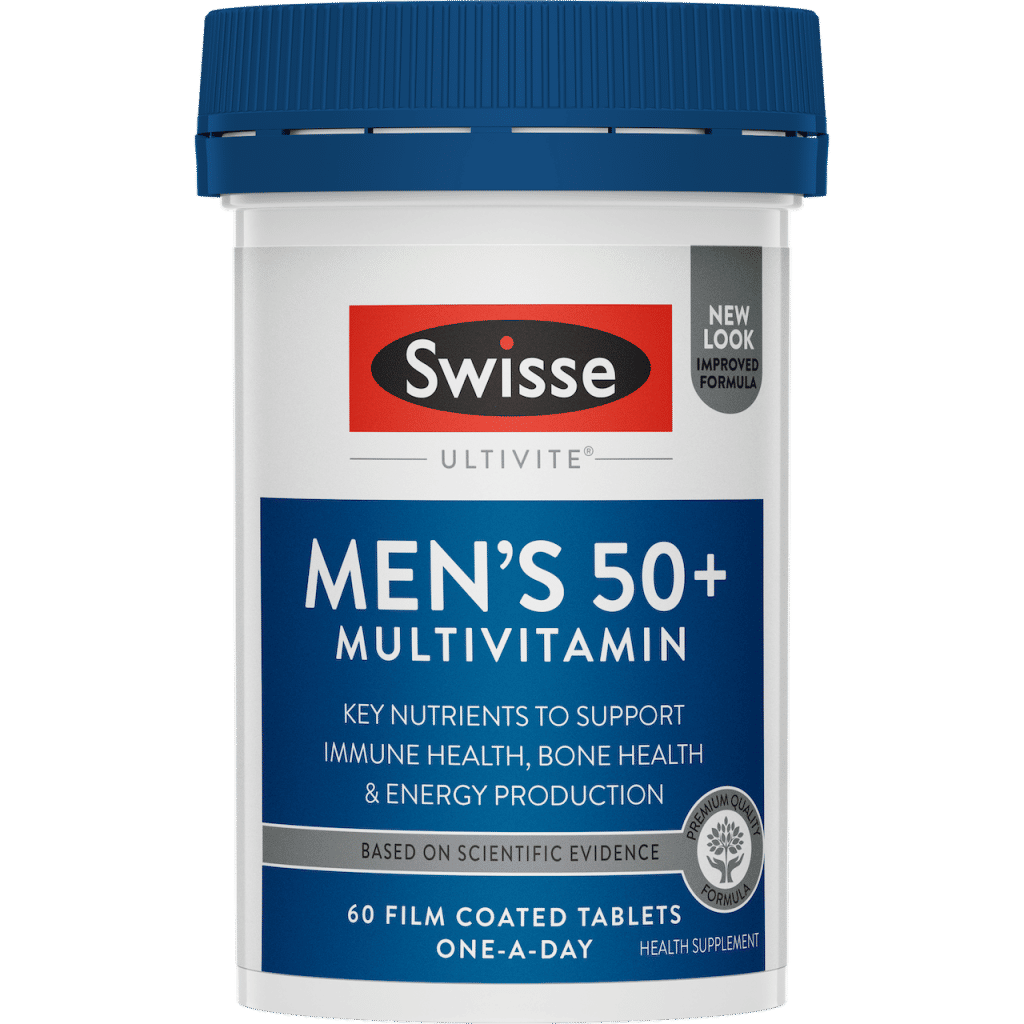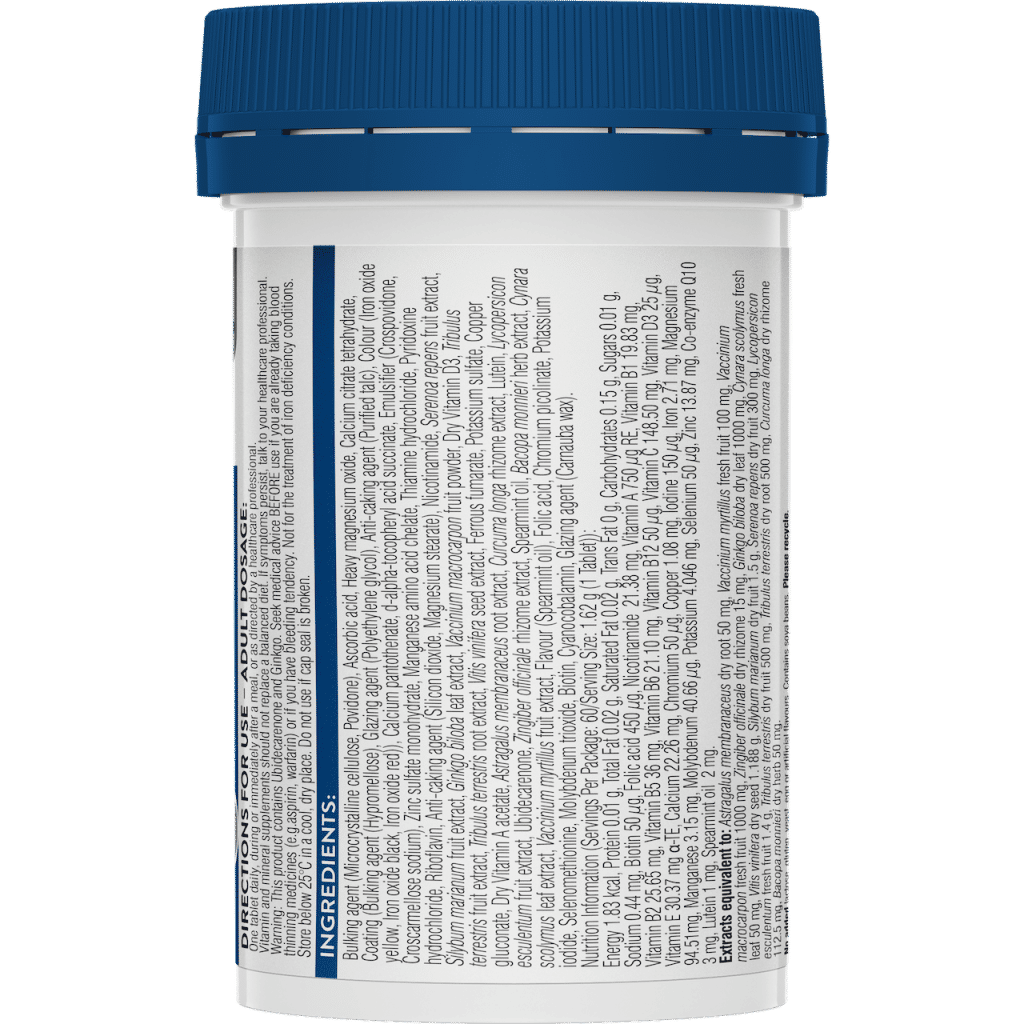 Swisse Ultivite Men's 50+ Multivitamin
As mentioned earlier, when we age, our nutritional requirements vary and differ from when we are at our physical prime. Once we hit our 50s, the body's nutritional requirements become more onerous in areas that someone in their 30s and 40s would not worry about. Hence, Swisse Ultivite Men's 50+ Multivitamin is a formula combining 39 vitamins, minerals plus antioxidants & herbs to help men aged 50 years and above to meet their nutritional needs when dietary intake is inadequate and maintain general wellbeing, as well as supporting energy production, cognitive function, and healthy immune function.
While it is formulated like the regular Men's Multivitamin, 50+ Multivitamin is created with 12x more Magnesium to support muscle health since studies show muscle mass decreases approximately 3–8% per decade after the age of 30 and this rate of decline is even higher after the age of 60. 2x more added selenium also remodels gradual and spontaneous physiological changes caused by oxidative stress, potentially leading to disease prevention and healthy aging. Astragalus has antibacterial and anti-inflammatory properties, it is also used to protect and support the immune system, preventing colds and upper respiratory infections, lowering blood pressure, treating diabetes, and protecting the liver. Finally, if you're wondering why your older folks at home love Teh Halia, it's because ginger not only supports better digestion but a study that involved 75 men between the ages of 19 and 40 also showed that ginger had a surprising effect on testosterone levels.
Mature gentlemen can consider augmenting their 50+ multivitamin regime with Swisse Ultiboost Male Vitality for a boost to sexual health. After 3 months of consistent supplementation, the men showed a 17.7% increase in testosterone levels, which is surprising considering that ginger is a very simple ingredient – an important discovery given that testosterone levels generally decrease with age.
Special Swisse Promotional Offer
25% OFF "SWISAM25" on Swisse Men's Health Range on Shopee Official Store till 31 August 2023.
Swisse Ultiboost Male Vitality available in 60 tablets, $49.50
Swisse Ultivite Men's Multivitamin available in 60 tablets, $58.55 & 120 tablets, $94.90
Swisse Ultivite Men's 50+ Multivitamin available in 60 tablets, $51.50 & 120 tablets, $88.85
Shop in-store at Guardian, Watsons, Unity and Online at Swisse Official E-Store, Shopee and Lazada Official Store.
Keep up-to-date with Swisse's latest men's supplements
Facebook: https://www.facebook.com/Swisse.sg
Instagram: https://www.instagram.com/swissesg/
written by.
Jonathan Ho
Managing Editor
Jonathan Ho might have graduated with a business degree but he thumbed his nose at commerce and instead opted for a harder life in journalism. He edits Augustman, a title he first joined when he became a writer after a career in advertising and now, earns a living writing commentaries on the luxury industry.