We visited Disney100 Village, Bangkok's first major Disney attraction, which opened today, and we've got a cheat sheet of what to do and what to prep when you pay a visit yourself.
Everyone was in disbelief when they said that a Disney attraction was opening at Asiatique, mainly because it was wrongly reported that it was going to be an actual Disneyland. While Disney100 Village may not be the iconic theme park, which has many locations around the world, it is the closest thing we'll probably have to it and is definitely a must-visit for fans of the Mouse, Marvel, and Star Wars.
If you're planning to visit and are unsure what to expect, Augustman has gotchu. Here's a handy cheat sheet for your visit to Bangkok's Disney100 Village now that it's open.
The Disney100 Village in Bangkok cheat sheet: all you need to know for your visit
Prep wisely Augustman's already done a run-down of what Disney100 Village is all about so I'll get straight into it. As mentioned previously, this isn't Disneyland, but that doesn't mean it won't be crowded. Expect lots of people and definitely lots of kids. y visit was during the media round when there were fewer people, but I'm sure that's the only time this place won't be crowded.
The heat is also starting to scorch even more these past few days. Add that on top of the crowds and you've got yourself a sweat fest. Have a water bottle handy and a portable fan to keep cool for you and your kiddos (if you have any). Thankfully, there are shops all around Asiatique that sell beverages and food to keep you going.
Manage expectations The reason why I keep saying this isn't Disneyland is that I'm afraid that people will go into this expecting rides, meet-and-greets, and mind-blowing attractions with animatronics. This isn't that. There are no rides; anyways, there's barely any space to have any rides in an area like Asiatique. There is a meet-and-greet but it's important to know that it's a limited-time event and will only be available until March 26, so if you want to get a pic with Mickey, Minnie, or Donald (Duck, not the Cheeto), then you better get on it.
That said, that doesn't mean the attractions aren't great or worth a visit.
Know your attractions Disney100 Village basically has five major attractions: the Marvel Universe, the Enchanted Garden, the Frozen Exhibition, the Star Wars Experience, and Pixar Putt. All the major attractions are pretty much just walk-through exhibitions with plenty of IG-worthy places to take photos at. They do have activities inside, of course. Pixar Putt is the stand-out as it's a fun mini-golf course rather than just being a walk-through exhibition.
If you're wondering which attractions to go to (maybe because you're running on a tight budget) or when to go to them, here's a handy break down.
Star Wars Experience This houses stormtroopers and ships like the TIE Fighter from the films. You can also try your hand piloting some of them by playing Star Wars: Squadrons in a designated area.
Visit for: Photo opportunities and to play a video game
Best time to visit: Anytime since it's indoors
Price: Free
Frozen Exhibition You walk through a series of scenes from the film with plenty of IG-worthy spots as well as a few activities dotted around like a slide and an opportunity to colour characters, which will then be showed on the screen like a painting for all to see. For all to see. So you better colour well.
Visit for: Photos with the likenesses of Frozen characters and a few activities
Best time to visit: Also indoors so anytime
Price: Starting at THB 599 for kids/students, starting at THB 649 for adults
Marvel Universe This attraction takes you through three important aspects of Marvel: the comics, the films, and the games. Cool photo ops here include Iron Man's hall of armour, lifting Mjolnir (if you're worthy), and Cap's different shields. In the games section, you can try your hand at Marvel's Spider-Man, Midnight Suns, or go classic with a little Marvel vs. Capcom.
Visit for: A Marvel history education, plenty of photo opportunities, and some fun games
Best time: It's indoors so anytime, but expect it to be crowded since it's Marvel after all
Price: Starting at THB 599 for kids/students, starting at THB 649 for adults
Pixar Putt There are 18 mini-golf courses here all inspired by Pixar movies. It's a fun little game that even the kids will love. If you're really competitive, they provide a scorecard and pen for you to keep track of who's winning.
Visit for: Fun golf times!
Best time: In the evening or at night. Don't visit at noon unless you like getting roasted.
Price: Starting at THB 699 for kids/students, starting at THB 769 for adults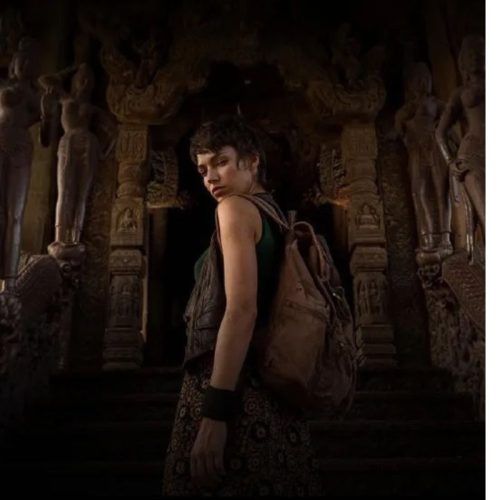 Enchanted Garden This garden houses the golden likenesses of various Disney princesses from Aurora to Raya. That's pretty much it. If you're on a tight budget, this is an attraction that I think you can bypass.
Visit for: Photos
Best time: This is also an outdoor attraction so visiting later in the day or at night would be best.
Price: Starting at THB 219 for kids/students, starting at THB 199 for adults
There are also other mini attractions scattered about Asiatique that you can find on the website.
Check your budget It's good that you can buy tickets for individual attractions just in case you just want to visit one. They do offer ticket bundles as well, which start at a price of THB 1,279 for kids and THB 1,419 for adults, if you want to visit multiple attractions.
Aside from the tickets, there's also the Disney Merchandise Hall. The collection of things here isn't as great as I expected them to be, though there are a few cool items. But the good thing about that is that they're also not as expensive as the stuff you'd find buy in Disneyland, yet another thing that shows this definitely isn't the theme park.
And that's what you need to know! Disney100 Village is definitely a must-visit for fans of Disney especially since it's only here until July 31. What attraction you visit will probably depend on what you're a fan of, but thankfully, the attractions and the merch that is open to the public are enough to warrant a visit. So even if you have no money for tickets, your inner kid will still be quite happy when you visit Disney100 Village.
Disney100 Village is located at Asiatique and is open everyday from 10am-12am until July 31. You can check the website to know more.
This story first appeared in Lifestyle Asia Bangkok