Thailand is a popoular tourist destination with a number of picturesque locations, so it's not a surprise that a number of foreign films have been shot here. These are some of the notable movies that have shot on location here in Thailand.
Over many years, a number of films have been shot all around Thailand. The Wikipedia page that lists these movies go all the way back to the 1920s, beginning with a film that was shot with a Thai cast but unfortunately has been lost to time. As the years went on, films like The Man with the Golden Gun and The Hangover would shoot in the country, bringing some of Thailand's picturesque locations to global recognition. These are some of the popular films shot here in Thailand.
Foreign movies shot in Thailand
The Hangover Part II (2011) This film is usually the first that comes to mind when we talk about foreign or Hollywood films set in Bangkok. While it is absolutely hilarious, it's also a misrepresentation of Bangkok. I mean, we all know how sleazy and seedy this city is, but even this movie takes it up a notch. Also, it's been years since this movie was released, but I'm still wondering what the heck "Bangkok has him now" even means.
Only God Forgives (2013) Before he was Ken, Ryan Gosling was an American drug smuggler in Thailand set on the warpath by his other after his brother was killed by a ruthless Thai policeman. It's an, uh, interesting film, to say the least, especially that last part. A quick search of its reviews and you'll find that audiences are divided on it.
Extraction (2020) The city was all abuzz when the God of Thunder himself, Chris Hemsworth, revealed he was in Bangkok shooting something. That "something" would turn out to be Extraction, the adrenaline-filled Netflix action movie, where he would play badass Tyler Rake. Hemsworth bemused Thailand traffic on his social media, giving him a taste of what us Bangkokians experience on a regular basis. The scenes shot here in Thailand, however, were just a stand-in for Dhaka, so Tyler didn't go falling off a building in Nana in the movie.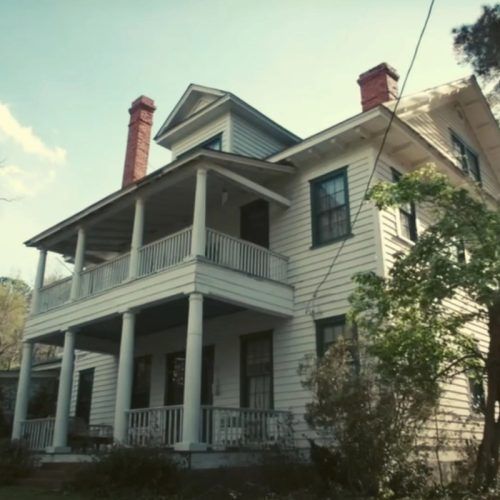 The Man with the Golden Gun (1974) One of the most iconic films shot in Thailand, The Man with the Golden Gun sent iconic British spy James Bond to Rajadamnern Stadium to watch Muay Thai. He also went around Phuket doing his usual James Bond shenanigans, but it's Scaramanga's hideout that would forever live in the audience's memories, so much so that it's now famously known as James Bond Island.
Bangkok Dangerous (2008) What's there to say about Bangkok Dangerous? It's Nicolas Cage in Bangkok. It's a match made in heaven.
The Railway Man (2013) Most WWII movies deal with the war itself, and that's why this movie is different. Based on the true story of Eric Lomax, this British soldier became a prisoner of war at Kanchanaburi where he was tortured and was one of the many prisoners who built the Death Railway. Years later and still suffering from the trauma of all that he experienced, he learns that one of his torturers is still alive. It's a touching movie about dealing with trauma and forgiveness; stars Colin Firth, Nicole Kidman, and Hiroyuki Sanada; and it was shot in location in Kanchanaburi.
The Beach (2000) Much like Nicolas Cage and Bangkok, Leonardo DiCaprio and Thailand is just a match made in heaven. The eponymous beach is Kho Phi Phi Le. Because of its popularity, however, many tourists visit the beach so it's gotten crowded over the years.
Good Morning, Vietnam (1987) This film is clearly set in Vietnam so why is it on this list? Actually, Bangkok was a stand-in for Saigon. The film also featured Thai actress Jintara Sukapat who portrayed Robin Williams' love interest.
Honourable mentions
Star Wars: Episode III – Revenge of the Sith (2005) Shots of Krabi were used for the planet of Kashyyyk, the Wookie homeworld.
In The Mood For Love (2000) This iconic romantic film utilised exterior shots of Bangkok.
The Gray Man (2022) The opening sequence is set in Bangkok but not shot in Bangkok, but I wanted to include it here because of the fact that Ryan Gosling rode a tuktuk from Bangkok all the way to Chiang Mai in this movie.
This story first appeared on Lifestyle Asia Bangkok