Michelle Yeoh is a Malaysian actress who has become a household name in the entertainment industry. She has worked with some of the most renowned directors and actors in the world, and her performances have received critical acclaim and numerous awards and nominations for various movies. Yeoh's talent and versatility have made her a sought-after actress, and she has proven time and time again that she is a force to be reckoned with.
Yeoh began her career in Hong Kong cinema in the 1980s, where she quickly gained recognition for her martial arts skills and her ability to perform her own stunts. With years of experience as an actress under her belt, it comes as no surprise as to why she has been receiving a long list of awards recently.
Check out these movies that Michelle Yeoh starred in
Police Story 3: Super Cop (1992) Directed by: Stanley Tong
Starring: Jackie Chan as Inspector Chan Ka Kui, Michelle Yeoh as Inspector Jessica Yang, Maggie Cheung as May, Kenneth Tsang as Chaibat (Ken Tsang), Wah Yuen as Panther
Inspector Jessica Yang, a tough and skilled police officer teams up with Inspector Chan Ka Kui to take down a drug lord in Mainland China. The movie is known for its high-octane action scenes, which feature Yeoh performing her own stunts and showcasing her martial arts skills which helped establish the Malaysian as one of the most skilled and versatile actresses in the Hong Kong movie industry.
Tai Chi Master (1993) Directed by: Yuen Woo-Ping
Starring: Jet Li as Kwan Bo, Michelle Yeoh as Siu Lin, Chin Siu Ho as Chin Bo, Fennie Yuen as Miss Li, Cheung-Yan Yuen as Rev. Ling, Shun Lau as Master Jueyuan
Tai Chi Master plot's revolves around Kwan Bo and Siu Lin, two childhood friends who are sent to a military academy to become soldiers for the Emperor. However, they soon discover that the academy is corrupt and that the officials are embezzling funds meant for the army. In an effort to expose the corruption, they steal the funds and flee the academy.
The film features stunning choreography and breathtaking action scenes, and it has become a classic of the martial arts genre—a must-see for fans of martial arts movies, plus it showcases Yeoh's incredible talents as an actress and martial artist.
Wing Chun (1994) Directed by: Yuen Woo-Ping
Starring: Michelle Yeoh as Yim Wing Chun, Donnie Yen as Leung Pok To, Yuen King Tan as Abacus Fong, Catherine Yan Hung as Charmy, Waise Lee as Wong Hok Chow, Norman Chu as Flying Chimpanze
Set in 19th-century China during the Qing dynasty, this film is loosely based on the legend of Yim Wing Chun, the founder of the Wing Chun style of kung fu. Played by Michelle Yeoh, Yim Wing Chun is portrayed as a strong and independent woman who is determined to protect her community from bandits and other threats. Her martial arts skills are put to the test as she faces a series of challenges, including a corrupt official who wants to shut down her martial arts school.
The movie features some of the most iconic fight scenes in Hong Kong cinema, with Yeoh and Yen showcasing their incredible martial arts abilities. The film's fight choreography is both elegant and brutal, making for a thrilling viewing experience.
Tomorrow Never Dies (1997) Directed by: Roger Spottiswoode
Starring: Pierce Brosnan as James Bond, Jonathan Pryce as Elliot Carver, Michelle Yeoh as Wai Lin, Teri Hatcher as Paris Carver, Judi Dench as M, Samantha Bond as Moneypenny, Ricky Jay as Henry Gupta
This 1997 James Bond movie marks the start of Michelle Yeoh's Hollywood career. In this globally successful movie franchise, the Malaysian actress played the role of Wai Lin, a Chinese spy who teams up with Bond to stop a media mogul from causing a war between China and the UK. She is portrayed as a competent and capable agent who is Bond's equal in many ways. Yeoh's performance in the movie received critical acclaim and helped pave the way for more roles in Hollywood.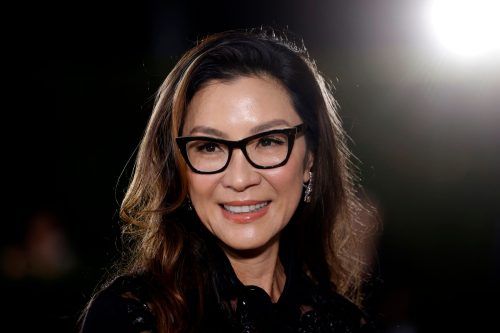 Crouching Tiger, Hidden Dragon (2000) Directed by: Ang Lee
Starring: Chow Yun Fat as Master Li Mu Bai, Michelle Yeoh as Yu Shu Lien, Ziyi Zhang as Jen, Chang Chen as Lo, Sihung Lung as Sir Te, Pei-Pei Cheng as Jade Fox
Crouching Tiger, Hidden Dragon is a martial arts movie that received international acclaim and won four Academy Awards. Adapted from the novel of the same name by Wang Dulu, Michelle Yeoh played the role of Yu Shu Lien, a warrior seeking to recover a stolen sword. Her performance was widely praised for its grace and elegance and helped establish her as one of the most skilful actresses of her generation.
Known for its stunning visuals, breathtaking action scenes, and beautiful cinematography, the movie's success helped to bring Chinese cinema to a global audience and paved the way for other martial arts movies to gain international recognition.
Crazy Rich Asians (2018)
Directed by: Jon M. Chu
Starring: Constance Wu as Rachel Chu, Henry Golding as Nick Young, Michelle Yeoh as Eleanor Young, Gemma Chan as Astrid Young, Lisa Lu as Ah Ma, Awkwafina as Peik Lin Goh, Ken Jeong as Wye Mun Goh
Based on the bestselling novel of the same name by Kevin Kwan. Crazy Rich Asians is a romantic comedy movie which tells the story of Rachel Chu, an American-born Chinese professor who travels to Singapore with her boyfriend Nick Young to attend a wedding and meet his family. Michelle Yeoh played the role of Eleanor Young, Nick's mother, who disapproves of Rachel and does everything in her power to keep them apart. The movie was a commercial and critical success, and Yeoh's performance as Eleanor Young was highlighted for its complexity and nuance.
The movie features an all-Asian cast and crew, and it was hailed as a groundbreaking moment for Asian representation in Hollywood. Crazy Rich Asians was the first Hollywood movie in 25 years to feature an all-Asian cast, following The Joy Luck Club in 1993. The movie was praised for its portrayal of Asian culture and for breaking stereotypes about Asian characters in Hollywood.
Shang-Chi and the Legend of the Ten Rings (2021)
Directed by: Destin Daniel Cretton
Starring: Simu Liu as Shang-Chi, Awkwafina as Katy, Tony Leung Chiu-Wai as Xu Wenwu, Ben Kingsley as Trevor Slattery, Zhang Meng'er as Xialing, Michelle Yeoh as Ying Nan, Fala Chen as Li, Wah Yuen as Master Guang Bo
Shang-Chi and the Legend of the Ten Rings is a Marvel superhero movie where Michelle Yeoh played the role of Ying Nan. She is a guardian of a mystical village and helps Shang-Chi, the main character, with his mission to stop his father – the leader of the Ten Rings organisation. The Ipoh-born actress's performance in the movie adds to her impressive filmography and showcases her range as an actress. Her ability to bring depth and complexity to her characters is evident in her portrayal of Jiang Nan, and her presence on screen is captivating.
Since its release, Shang-Chi and the Legend of the Ten Rings has become a cultural phenomenon and a landmark moment for Asian representation in Hollywood. The film's success at the box office has also led to a sequel, which is currently in the works.
Overall, it is a must-watch for anyone interested in superhero movies, Asian representation in Hollywood, or simply great filmmaking. It is a testament to the power of representation and the importance of diverse voices in the entertainment industry.
Watch Shang-Chi and the Legend of the Ten Rings here
Everything Everywhere All At Once (2022) Directed by: Daniel Kwan and Daniel Scheinert
Starring: Michelle Yeoh as Evelyn Wang, Stephanie Hsu as Joy Wang, Jamie Lee Curtis as Deirdre Beaubeirdre, Ke Huy Quan as Waymond Wang, James Hong as Gong Gong, Tallie Medel as Becky Sregor
Premiered at the Sundance Film Festival and received critical acclaim for its unique storyline and Yeoh's captivating performance, the movie explores the idea of parallel universes and follows a woman named Evelyn who must navigate different versions of herself in order to save the multiverse from destruction.
Everything Everywhere All at Once offers a fresh take on the science-fiction genre, with its exploration of multiverses and its focus on a strong female protagonist. The film's unique storyline and stunning visuals make it the perfect film for fans of the genre and for anyone looking for a thought-provoking and entertaining movie experience.
watch Everything Everywhere all at Once here
Michelle Yeoh's success in the entertainment industry is a testament to her hard work and dedication and talent. She has proven time and time again that she is a versatile actress who can play tough, fearless characters as well as more complex and nuanced roles. Her contributions to the industry have paved the way for future generations of actors and actresses, and she remains one of the most respected and admired actresses in the world.
This story first appeared in Lifestyle Asia Kuala Lumpur