The Chinese New Year begins on 22 January this year, and we're truly spoiled for choice when it comes to Chinese New Year dining options this 2023. Here's where to dine on this special occasion.
As you may have already guests from the inexhaustible number of rabbit-themed fashion collections launched, 2023 is the Year of the Water Rabbit, according to the Lunar calendar. The new year falls on January 22, 2023 and it would be a taboo not to celebrate the occasion by diving into a plethora of lucky Chinese and Cantonese signature dishes. To mark the beginning of the new year or to simply enjoy the large selections of dim sum and other delicacies, we've curated a list of the best menus in Bangkok where you can dine for this Lunar New Year 2023.
Dining Ideas for Chinese New Year 2023 in Bangkok The grandest celebration could not occur elsewhere than at Mott 32, currently the hottest Chinese restaurant in town. It will be offering soul-soothing lunches and dinners that star dishes like E-Fu Longevity Noodles with Hairy Crab Roe, Bird's Nest with Bamboo Pith, Fish Curd in Rice Soup, and more. Diners also have a chance to participate in the Not Your Standard Bingo and a lucky draw taking place at the canopied terrace.
Dates: January 22-29, 2023
For more information and reservations, contact 02 085 8888. The Silk Road offers a wide range of menus for lunch and dinner, including special a la carte options, dim sum a la carte, a six-course Blessing Menu, and an eight-course Longevity Menu. Amongst the mouthwatering series of dishes, the traditional Yu Sheng, or Cantonese raw fish salad, is the highlight that will be served in two ways: Salmon Yu Sheng and Abalone Yu Sheng. Another highlight is the Chinese New Year Poon Choi, a clay pot with braised mixed meats, dried scallops, abalone, black mushrooms, and more.
Dates: January 21-29, 2023
For more information and reservations, contact 02 650 8800. To our delight, the Kimpton Maa-Lai Bangkok's inventive dining venues are all jumping in to celebrate the Chinese New Year. While Craft is welcoming a Yumcha Pop-Up to serve delicious dim sums from breakfast until late, Stock.Room is also featuring Yum Cha's delicacies in a beloved Chinese New Year Brunch. Otherwise, enjoy Chinese creations with a twist with the Chinese-inspired cocktails at Bar.Yard, including the Roasted Duck Bao Taco and Chinese BBQ Pork Bao Taco.
Dates: January 20-27, 2023
For more information and reservations, contact 02 056 9999. Diners are presented with two indulgent choices at Man Ho Chinese Restaurant. For those looking for the comfort of their usual Cantonese delicacies, dive into the Dim Sum Buffet spread filled with roasted crispy pork belly, Shanghainese drunken chicken, jumbo siu mai with tobiko caviar, as well as sweet treats like mango pudding and Chinese pancake with red dates. On the other hand, the 10-course menu by Chef Leslie Du is an alternative for those seeking innovative recipes. Expect to see some steamed chicken with chilli sauce, sweet-scented Osmanthus glutinous rice and lotus root, salmon Yu Sheng and more.
Dates: January 21-28, 2023
For more information and reservations, contact 02 656 7700. For the most important occasion in the Chinese calendar, Feast is throwing a hearty seafood and Chinese feast along the Chao Phraya River with a fascinating lion dance show. The celebration spotlights a selection of classic dishes, such as roasted duck with Chinese pancake, Chao Mien noodles, turnip cake with assorted dim sum, and more. Finish off the meal with desserts like cold assorted beans in syrup and hot sticky rice with taro.
Dates: January 22, 2023
For more information and reservations, contact 02 266 0123. The oriental decoration of Pagoda Chinese Restaurant puts diners in the mood for Chinese celebration, which gets even more immersive with additional festive menus this season. Explore the flavours of the Spring Festival delicacies that vary from baked sugar buns with barbecued pork, Peking duck stuffed with abalone rice and eight treasures, and the traditional Yu Sheng dish. Available with salmon, abalone and salmon, and Phuket lobster and salmon, the Yu Sheng dish is perfect for sharing and tossing according to Chinese belief.
Dates: January 21-22, 2023
For more information and reservations, contact 02 059 5999. Celebrate Chinese traditions throughout the month at YÀO Restaurant. The culinary team has crafted some delectable a la carte dishes influenced by Cantonese and Shanghainese gourmet styles. Dig into crab meat rolls with salmon caviar and bird's nest, spring rolls of deep-fried foie gras with black truffle and Chinese ham, Shanghainese lucky egg rolls with minced pork, poached spinach and tiger prawns, braised Australian abalone, and wok-fried sea mud crab with New Year rice cakes.
Dates: January 10-31, 2023
For more information and reservations, contact 02 088 5666. Leap into the Year of the Rabbit with Liu's set- and a la carte menus. For dim sum lovers, indulge in the Chinese New Year All-You-Can-Eat Lunch Dim Sum set, which comes with delectable crispy tiger prawn and abalone in mustard mayo, Peking duck roll and crispy pork belly, and steamed snow fish. For families of four, the Family Set is inclusive of Prosperity Salmon Toss Loh Hei, or Yu Sheng, barbecued Peking duck, sautéed squid slices, and sea asparagus with broccoli in XO sauce. Large groups of diners can also enjoy the Prosperity Fresh Abalone Toss Loh Hei in a set for 10 persons.
Dates: January 20-24, 2023
For more information and reservations, contact 02 690 9999. The Sheraton Grande Sukhumvit is going all out on this auspicious occasion. Starting one day in advance, the Grande Chinese Buffet Lunch and Dinner is served at Orchid Café featuring sumptuous Peking duck, Yang Zhou fried rice, char siu pork, dim sum, roasted duck with plum sauce as well as other Japanese, Thai, and Italian adaptations. Moreover, the hotel is also arranging a Grande Chinese Jazzy Brunch at Rossini's and The Living Room, where Chinese classics are served along with brunch favourites. Guests will also be entertained by the lion dance, Chinese calligraphy luck talisman, and a special gift.
Dates: January 21-22, 2023
For more information and reservations, contact 02 649 8888.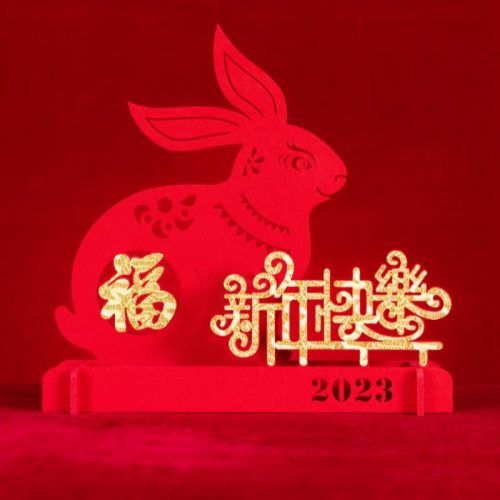 The riverside Thai restaurant, Phra Nakhon, is switching up its game to serve sumptuous Chinese classics for the Chinese New Year Sunday Lunch. Prepared by Chef Kannika and her team, the menus include pan-fried prawn dumplings, pork belly bao buns, Peking roasted duck, and even Trang-style suckling pig. Some sustainably caught seafood menus, such as grilled marinated white snapper and Maine lobster, will also be served. On the other hand, Stella has also come up with two Chinese-inspired cocktails to be cherished throughout the week.
Dates: January 18-25, 2023
For more information and reservations, contact 02 098 388. Spice & Barley will offer a special edition of its all-you-can-eat dim sum buffet with exclusive dishes such as Lucky Yee Sang Salmon, Prosperity Noodles, crispy Peking duck, abalone and foie gras dumplings, har gao lobster and more. On the other side at Riverside Terrace, the venue is throwing a full-on Chinese New Year Buffet dinner party featuring the grand lion dance and tasty traditional delicacies.
Dates: January 21-22, 2023
For more information and reservations, contact 02 476 0022.
This story first appeared on Prestige Online Thailand